book a tour
We'll help you discover our fabulous city and make sure you don't miss out.
Tour details
To book a tour online, please select the tour you wish to attend and then select the date and time.
Summary
No tickets have yet been added.
Not sure which tour to choose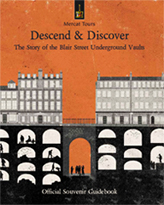 Souvenir Guidebooks
Don't forget to buy a Mercat Tours souvenir guidebook with your ticket.
See inside