Corporate Entertainment
An Evening with Meg Dods
In Summary
Ideal for groups of 20 or more
Trained, accredited performer
Travel, costume, props and preparation included
Admin and booking support
One rate, all year round
From half an hour to a full evening
About this tour
The ingredients of the haggis. The secret to the water of life. And the precise definition of a 'tappit hen'. Some Scottish traditions can be a little confusing – even to the Scots. Fear not: Mistress Meg Dods will be your guide for the evening.
Legendary landlady of the Cleikum Inn, Meg hosted the Cleikum Club – renowned for fostering the arts during the Scottish Enlightenment.
Now she's ready to regale you with the very real tales of our nation's customs and characters – presented in full costume by one of our fully trained and accredited performers.
A lady through and through, Meg was immortalised in Sir Walter Scott's novel, St Ronan's Well. A woman of uncertain age, Meg was of modest origin, warm-hearted and given to speaking her mind. She also had a rightly-won reputation for hospitality and homespun yarns.
Enquire about An Evening with Meg Dods
Tours details
Need help booking?
Get in touch with us and one of our experts will be able to give you advice on our tours.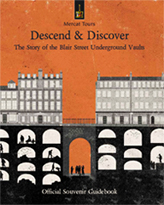 Souvenir Guidebooks
Don't forget to buy a Mercat Tours souvenir guidebook with your ticket.
See inside