Corporate Entertainment
The Trial of Dr Knox
About this tour
What price scientific process? Long, lonely hours in the laboratory are one thing. Murder and grave robbing are quite another. Did Dr Robert Knox merely spot an opportunity to acquire bodies for medical research? Or was he a knowing participant in Burke and Hare's murderous plot?
It's time to act as judge and jury in this courtroom drama – picking over the details of a famously grisly crime. (Don't worry, our costumed performers will make sure everyone's appetite remains intact.)
Until tonight, this was the trial that never happened.
In all, 16 victims fell to Burke and Hare. In the trial of 1829, Hare was granted immunity – and Burke sentenced to death by hanging. But what of Robert Knox?
At last the time has come to hear the case for – and against – the doctor, as put by two 19th century Edinburgh lawyers. Guests play a vital part in proceedings, acting as witnesses to these terrible events.
The doctor's fate and the reputation of the entire scientific world lies in your hands. What will your judgement be?
Enquire about The Trial of Dr Knox
Tours details
Need help booking?
Get in touch with us and one of our experts will be able to give you advice on our tours.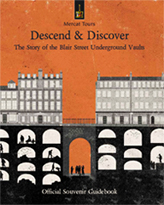 Souvenir Guidebooks
Don't forget to buy a Mercat Tours souvenir guidebook with your ticket.
See inside