Ghost Tours
Ghostly Underground
In Summary
Experience an Edinburgh ghost tour in the safety of the daylight hours and early evening
Get up close to Edinburgh's haunted past
Explore the famous Blair Street Underground Vaults on this high-spirited tour
Mercat exclusive audio devices - be immersed and get lost in the stories...
About this tour
Edinburgh ghost tours
A fun and light-hearted daytime walking tour of the Blair Street Underground Vaults – Edinburgh's most haunted vaults, which Mercat Tours has exclusive access to. This spooky Edinburgh ghost tour is the ideal way to peek into the city's ghostly past, and remember… things don't only go bump in the night!
The true history of the Blair Street Underground Vaults is terrifying enough – so abandon thoughts of manufactured frights and make-believe. The skill is in the storytelling: these vaults witnessed the deeds of mischief-makers and murderers, vagrants, and torturers. It's one of Edinburgh's most haunted sites, where restless spirits still tread to this day.
Underground vaults
Follow your cloaked Mercat Tours storyteller through the shadowy closes of Edinburgh's Old Town. These dark and dreary streets are untouched by daylight, filled with a strange silence – their damp walls carrying only the faintest echo of the crowds on Edinburgh's Royal Mile.
With the scene set, you'll descend into the depths of the city – and listen in horror to the dark and sinister events which took place over the years. Torture. Murder. Hangings. From body snatchers to real-life characters of the city, you'll be gripped by the true tales that lie hidden beneath Edinburgh's streets, in the underground vaults.
Perhaps you'll experience a cold breath on the back of your neck, or a whisper, perhaps even a flicker – then silence. It's all the more chilling for being absolutely real: there are no tricks or jump scares on our Edinburgh ghost tours.

Please Note: To give a fully immersive experience, we'll provide a personal audio device. Your Storyteller will use a headset with microphone to ensure you hear every word in the hush of Edinburgh's haunted Old Town. Help us cut down waste and bring your own headphones/earphones if you can - it's a standard 3.5mm audio jack.
Customer review
"Absolutely brilliant! Entertaining & very informative!!! I'd definitely recommend this tour!"
Louise, Facebook
Book ticket
Tours details
Dates & times
Private group bookings
Reconnect with friends and family on a tour just for you. Book online now, or we're happy to help on email info@mercattours.com
Details
Tour location
Start point: Mercat Cross, High Street
End point: Hunter Square
Need help booking?
Get in touch with us and one of our experts will be able to give you advice on our tours.
Customer review
"Absolutely brilliant! Entertaining & very informative!!! I'd definitely recommend this tour!"
Louise, Facebook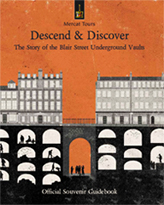 Souvenir Guidebooks
Don't forget to buy a Mercat Tours souvenir guidebook with your ticket.
See inside