History Walks
A Royal Mile Special: Chinese New Year
About this tour
People born in the Year of the Rat are known for being clever, quick-thinking and peaceful - and we have plenty of those characters in Scotland's history!
Our Chinese New Year celebratory tour is a tour that will link well known historical figures, born in the Year of the Rat.
2020 is the Year of the Rat and on this special edition of our Secrets of the Royal Mile Tour, we will explore how historic Years of the Rat have influenced some key events in Scotland's history. You'll hear these fascinating stories as you follow your guide through the twisting tale (or should that be tail?) of Edinburgh's past.
As well as seeing some of our favourite Old Town locations, you'll also hear about Edinburgh's former residents. Those born in a rat year are said to display certain personality traits, and our expert guide will share tales of some of Edinburgh's historic famous faces, some of them rats themselves, and let you decide whether they displayed the best of the personality of the rat.
You'll leave our walking tour with a whole new understanding of Edinburgh and a new respect for our rodent pals.
鼠年出生的人以其聪明才智和和平天性而受到赞扬。苏格兰历史上有许多这样的人物。在这次特殊的农历新年活动中,我们将向您展示与爱丁堡历史上的鼠年有关的历史人物和事件。加入我们,发现秘密!
Book ticket
Tours details
Dates & times
Date: Sat 25th & Sun 26th Jan, Sat 1st & Sun 2nd Feb
Time: 11am
Tour location
Start point: Mercat Cross, High Street
End point: Edinburgh Castle esplanade, Castlehill
Need help booking?
Get in touch with us and one of our experts will be able to give you advice on our tours.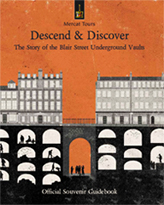 Souvenir Guidebooks
Don't forget to buy a Mercat Tours souvenir guidebook with your ticket.
See inside