On Request Tours
Gallows to Graveyard
In Summary
Delve into the gore of Edinburgh's worst punishments
Explore the historic Canongate graveyard and its secrets
Hear of crime, punishment and bloody history of the Old Town
About this tour
Few places have mixed horror and entertainment as effectively as the gallows. On this private tour you'll hear tales of all who met their end with a noose around their neck – and one who sprang back to life.
Stand in the spot where the gallows once stood, a stage in the midst of a baying crowd. Imagine the rope slipped over a bagged head, cinched tight. The air falls quiet. A lever creaks, the trapdoor clatters, the rope snaps taut, the body swings.
Follow the bodies from gallows to graveyard
This private tour transports you to the gruesome spectacle of Edinburgh's many hangings. Hear of vagabonds, murderers, and witches – of Maggie Dixon coming back to life, and Deacon Brodie trying to cheat death. Your expert Mercat storyteller will fire your imagination, and you'll follow the route the bodies took from gallows to the crowded Canongate kirkyard.
You'll meet your cloaked guide who will take you on your way through the closes and wynds to the graveyard. They'll point you to the grave of David Rizzio, alleged lover of Mary Queen of Scots. And to the unmarked patches of earth – places where murderous spirits used to lie – before they were dug up, their restless souls set loose on the city.
Enquire about Gallows to Graveyard
Tours details
Tour location
Start point: Mercat Cross, High Street
End point: Canongate Graveyard
Need help booking?
Get in touch with us and one of our experts will be able to give you advice on our tours.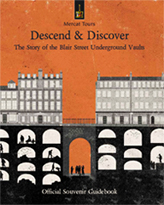 Souvenir Guidebooks
Don't forget to buy a Mercat Tours souvenir guidebook with your ticket.
See inside