On Request Tours
Tour & Tasting
In Summary
Discover the history of the Old Town and its whisky connections
Hear of Scotland's past and the changing role of Scottish whisky
Relish fine malt whiskies and learn how your dram was created
Learn more about Scotland's finest 'water of life'

Check our

COVID-19 measures

- to be safe, and feel safe on tour
Everyone has a warm welcome from us at the Mercat Cross. Read more about how we look after you and what to expect on tour on our Accessibility page and Euan's Guide Review.
About this tour
Walking the Old Town of Edinburgh you'll see the city that founded the world's largest Scottish whisky company, hear of the people that helped whisky production and then retire to Megget's cellar for a complimentary candlelit single malt whisky tasting from four whisky producing regions.

King James IV has been referred to as the world's first famous whisky drinker and it was to Edinburgh he granted a monopoly of the manufacture of aqua vitae or whisky. He believed in the medicinal properties of whisky which was produced by the Guild of Surgeon Barbers; it's just one of the transformations of whisky over the centuries.
Upon meeting your expert Mercat Tours guide you'll hear about Edinburgh's role in taking whisky to the rest of the world. Learn about how the 19th century changed whisky production in Scotland and of the locals that embraced whisky, from George Ballantine on South Bridge to Andrew Usher Jr at Nicolson Street, the pioneers that created their own whiskies and exported worldwide.
Colourful history, tradition and a candlelit whisky tasting.
The tour continues with a whisky tasting in our candlelit Megget's Cellar. There's no better way to warm the spirits. You'll taste four Scottish whiskies, under the guidance of our whisky specialist.
Our expert will cover everything you need to know about the water of life; from how whisky is made to the effects that different elements such as water, barley, peat and the cask have on the production process. Nose and taste your way through the whisky regions, with sample whiskies from Speyside, Highland, Islay and Lowland distilleries.
Just consider this your first step to becoming a whisky connoisseur!
If you know what styles of whisky you'd like to try, tell us when you book and we'll do our best to have it ready for you.
Enquire about Tour & Tasting
Tours details
Tour location
Start point: Mercat Cross, High Street
End point: Megget's Cellar, Blair Street, off Hunter's Square
Need help booking?
Get in touch with us and one of our experts will be able to give you advice on our tours.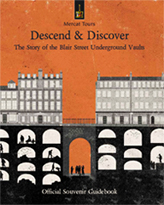 Souvenir Guidebooks
Don't forget to buy a Mercat Tours souvenir guidebook with your ticket.
See inside