Private Tours
Bespoke Costume Characters
About this tour
The story of the Scottish Enlightenment brought to life as your conference draws to a close.
Whatever the occasion, our experienced team will work with you to make sure the characters and script are just right. That means listening closely to what you're looking to achieve, as well as being true to the venue's past – to create a true story that will leave everyone enthralled.
It also means working within your budget, whether you're looking for a single performer or a group. Which is why our costs include travel time, travel and costumes.
Captivate. Entertain. Surprise.
Nothing brings an event to life quite like the stories of the past – whether they're told by the highest in the land, or the most infamous characters.
Enquire about Bespoke Costume Characters
Tours details
Need help booking?
Get in touch with us and one of our experts will be able to give you advice on our tours.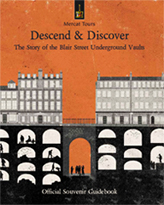 Souvenir Guidebooks
Don't forget to buy a Mercat Tours souvenir guidebook with your ticket.
See inside