Private Tours
Guiding Services
About this tour
So - your client's guests need an expert to bring their visit to life. Whether it's a half day or an entire month, our tour guides will make this a trip to remember.
Intriguing stories. Hidden histories. And the pleasure of a tale well told. You provide the transport, and we'll create a tailor-made tour that meets your exact specifications. That goes whether you need a guide to unlock the secrets of a Scottish city, town, loch – or the entire country.
Guides you can trust
Our guides are the same passionate storytellers who helped our sister company Mercat Tours become a five star visitor attraction – as rated by Visit Scotland. Every one of our guides is trained by us, and accredited by Edinburgh Napier University.
Nobody else in the business offers this level of guiding expertise.
Simple pricing. Simple admin.
Our rates are the same every day of the year. There's no high season pricing to upset your plans – or your budgets.
It's easy to book with us too. One call is all it takes – we'll arrange the perfect tour, right through to access at properties such as Edinburgh Castle and the Palace of Holyrood House.
Enquire about Guiding Services
Tours details
Need help booking?
Get in touch with us and one of our experts will be able to give you advice on our tours.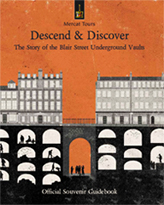 Souvenir Guidebooks
Don't forget to buy a Mercat Tours souvenir guidebook with your ticket.
See inside