Live Interpretation
Live Interpretation
About this tour
It's a story that deserves to be brought to life, with our costumed performers recreating the past to truly connect with your guests.
This is storytelling at its best – rooted in thorough research, and scripted by a team of experts who share your passion for unlocking your venue's past.
Our goal? That your visitors become steeped in the history around them, firing imaginations and leaving everyone with a sense of what makes your story so unique.
Your past is in good hands
From the National Trust for Scotland to Historic Scotland, some of the country's best-known custodians rely on Mercat Presents to bring their stories to life. We'd love to work with you, and show how a living link with the past can make all the difference.
Enquire about Live Interpretation
Tours details
Need help booking?
Get in touch with us and one of our experts will be able to give you advice on our tours.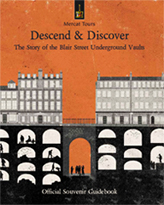 Souvenir Guidebooks
Don't forget to buy a Mercat Tours souvenir guidebook with your ticket.
See inside