Ghost Tours
Gory Stories: The Kids' Tour
In Summary
Learn about the real history of Edinburgh
Enjoy a family friendly walking ghost tour in a small group
See artefacts found in Edinburgh's secret underground
Hear about the grisly things that were once commonplace in Edinburgh life
Mercat exclusive audio devices - get immersed and lost in the stories...
About this tour
Tales of stinking streets, terrible tortures and ghostly goings-on. A daytime tour for kids that will take you to some of the city's most horrible haunts including a visit to our famous Blair Street Underground Vaults.
You'll hear all about the creepy characters lurking in the past and the hideous real history of how people lived in 19th century Edinburgh. As you walk this city built on witch trials, body snatching and a gruesome past of torture, your expert guide will take you to the places where history lives.
To start, you'll visit the winding closes of Edinburgh's Old Town. Learn the meaning of gardyloo and hope you never hear it, grimace at the tales of Scottish witches and find out what treasure could be found buried in a 19th century graveyard (clue: it's not gold and shiny). You'll even hear what school children, like you, once packed in their school bags on one eventful day.
A time when living in overcrowded closes proved as frightful as the ghoulish apparitions.
Hear what jobs were available for younger members of society and get a glimpse at what a family 'home' might look like. You'll finish your excursion beneath the streets in our exclusive Blair Street Underground Vaults, once frequented by some of Edinburgh's less appealing characters. And possibly still is…
If you're aged 5 and over this is the tour for you!

Please Note: To give a fully immersive experience, we'll provide a personal audio device. Your Storyteller will use a headset with microphone to ensure you hear every word in the hush of Edinburgh's haunted Old Town. Please do bring your own headphones/earphones - it's a standard 3.5mm audio jack.
Customer review
"My son's first vaults visit and he loved it. Thank you so much! I'm sure we will be back soon!"
Emma, Facebook
Enquire about Gory Stories: The Kids' Tour
Tours details
Tour location
Start point: Mercat Cross, High Street
End point: Blair Street Underground Vaults, Blair Street, off Hunter's Square
Need help booking?
Get in touch with us and one of our experts will be able to give you advice on our tours.
Customer review
"My son's first vaults visit and he loved it. Thank you so much! I'm sure we will be back soon!"
Emma, Facebook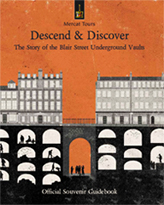 Souvenir Guidebooks
Don't forget to buy a Mercat Tours souvenir guidebook with your ticket.
See inside