Back to blog
Dr. David Livingstone, I Presume? The Life of David Livingstone.
19th Aug 2021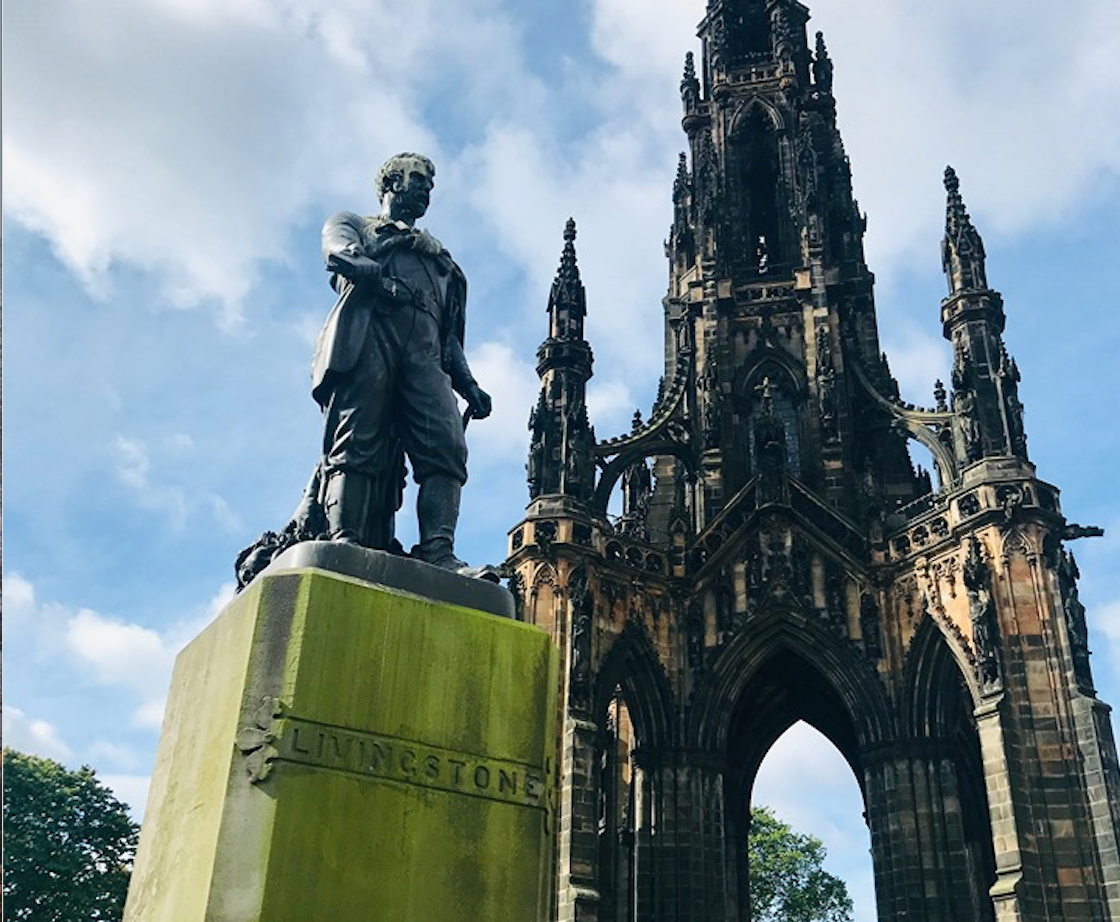 By Simon Bendle, Mercat Storyteller
There are so many must-see statues in Edinburgh it's hard to know where to begin.

But Dr. David Livingstone, the great missionary-explorer, who stands on a plinth in East Princes Street Gardens, is a good place to start.

In his day, Livingstone was a national hero. He spent three decades exploring Africa, was the first European to cross the continent, the first to see Victoria Falls.
Everyone knows Henry Stanley's famous question, "Dr Livingstone, I presume?", when he found his hero in the heart of Africa.

However, the best story from Livingstone's remarkable life may have nothing at all to do with Africa, nor indeed exploration – because, arguably, it is the story of his childhood.
Children left bow-legged and broken

Livingstone was born in the small industrial town of Blantyre, near Glasgow, in 1813. His early years were harsh. The second of seven kids, his large family lived in a single room in a crowded factory tenement. By the age of ten, he was working six days a week, twelve hours a day, in the local mill.

Few kids who endured such harsh upbringings ever broke free from their lives of drudgery. Many were left bow-legged and broken by long days spent clambering around dangerous machinery. Only a small minority ever learned to read.

But even at an early age David Livingstone was special. After clocking off from work, he would study for a further two hours at the mill school every evening. 

On returning home, he would then continue his reading till midnight.

Boy Wonder's Birthplace - A Museum
The young Livingstone taught himself Latin, botany, theology and maths. He rarely played with other kids. He read even while working, balancing textbooks on his loom.

Incredibly, by his twenties, Livingstone was studying medicine at Glasgow. Just four years later, aged 27, he sailed to Africa to take up his first position as a professional missionary-doctor.
If Livingstone's life had ended the day he left Britain, it would still have been an extraordinary one. His childhood achievements were immense, astonishing, almost superhuman.
Today the tenement where Livingstone was born and raised is a museum, which has just reopened after a major refurbishment. So if Dr Livingstone's Edinburgh statue grabs you, why not pay the Birthplace Museum a visit to see for yourself where the boy wonder grew into an extraordinary man?
Mercat Tours is delighted to have developed the new history tour at the David Livingstone Birthplace Museum.