Back to blog
Elsie Inglis: The Good Lady Who Would Not Go Home and Sit Still
2nd Feb 2015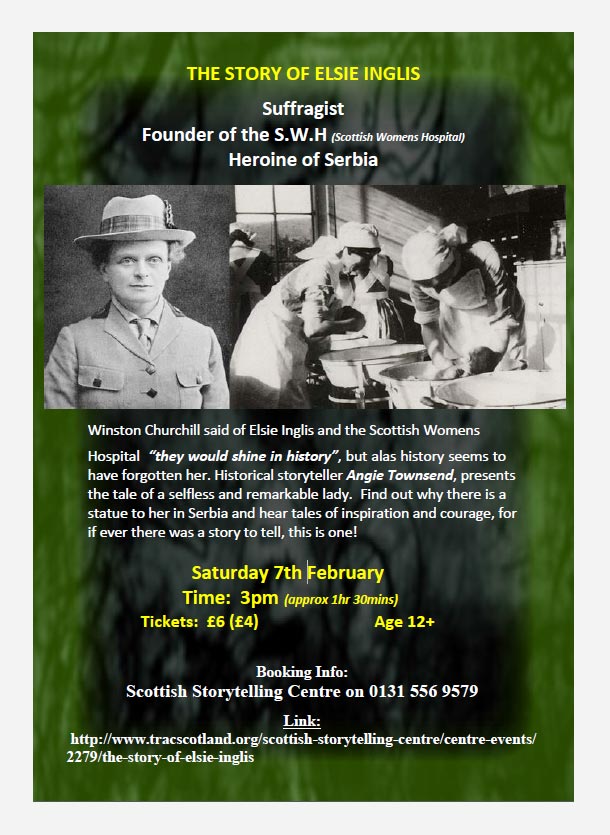 I then tell a little of her story (I could not possibly tell all of it, as it would take up the entire tour): how Elsie, one of the first female doctors, went to the War Office in 1914 to ask them what she could do and was told to go home and sit still, how she then went on to found the Scottish Women's Hospitals and save the lives of thousands of Serbians.
The story of Elsie's life is being told on Saturday 7th by my good friend Angie Townsend and I have the privilege to be part of this. Privileged not only to be involved in the telling of this remarkable woman's life but also because this will be Angie's last professional storytelling performance as she has terminal cancer. Elsie was an incredible woman and Angie is an inspiration. Angie wants Elsie's story to be made into a film and she certainly has the courage, determination and will power to make this happen.
The Elsie Inglis Trust is campaigning for a statue to her in the Royal Mile; after all there is Adam Smith, David Hume and James Braidwood. As her headstone states, she was a Surgeon, Philanthropist, Patriot, A Leader in the Movement For The Political Emancipation Of Women And Founder in 1914 Of The Scottish Women's Hospitals For Foreign Service. If ever anyone deserves a statue it is Elsie Maud Inglis.