Back to blog
Out with the old, in with the new (town)
8th Jan 2017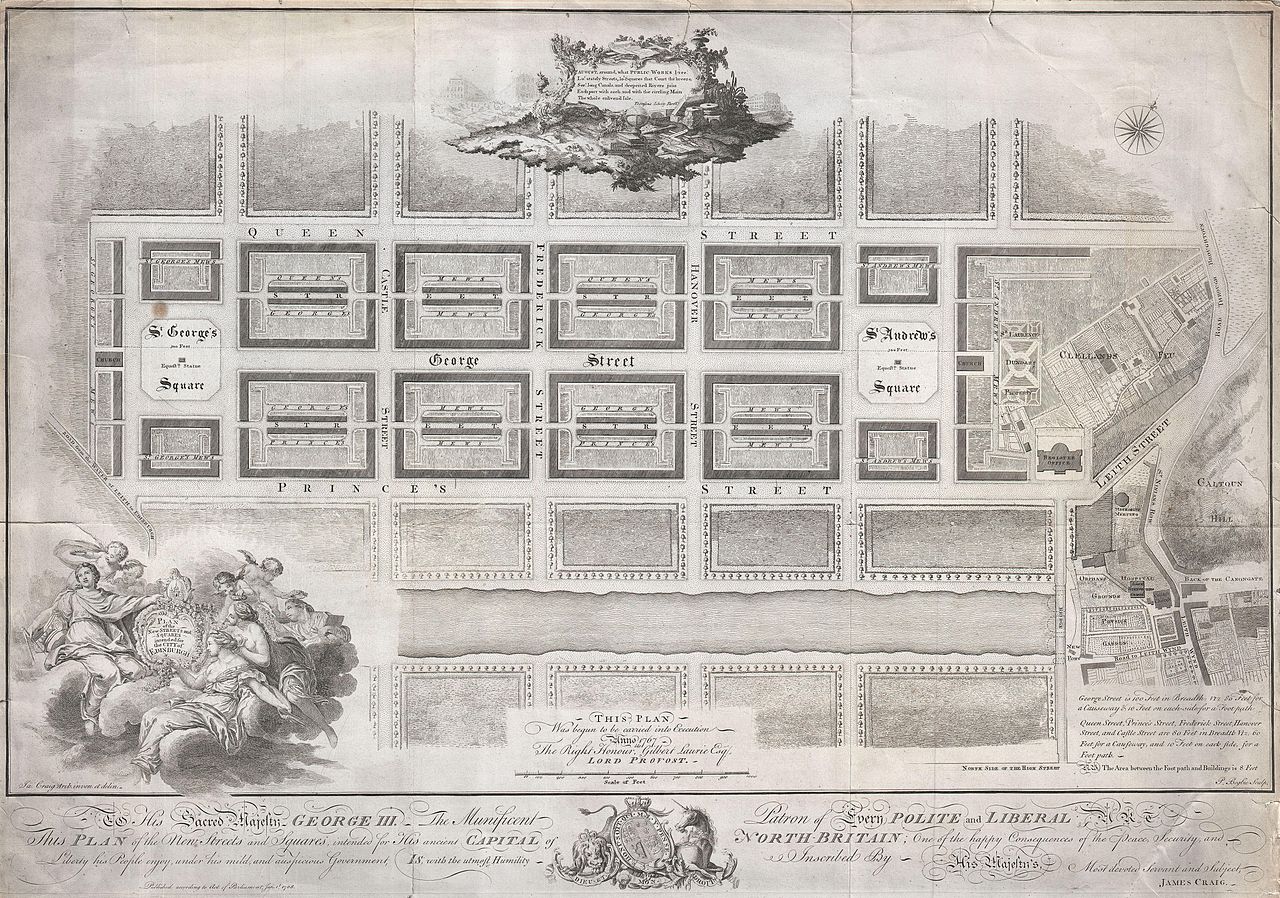 January is always a month of resolutions and plans. In January 1766, one plan was made that would change the face of Edinburgh forever. It was the proposal to expand the city with an ambitious 'New Town'.
Before this expansion, Edinburgh had been a squalid and desperately overcrowded city, blocked in by a city wall on three sides, and by the stinking Nor' Loch on the fourth. The competition to create a new town, won by a young architect called James Craig, saw the Nor' Loch drained and replaced by Princes Street Gardens, and a network of wide boulevards in a grid network set out behind. Originally Craig's plan had been to echo the design of the Union Flag in the layout, but things were quickly simplified, for obvious practical reasons!
Symmetry was key in Craig's design. Two mirroring gardens in Princes Street and Queen Street bookmarked a central grid of streets, with a grand square with a church in each at either end. His plan was thwarted when Lawrence Dundas, one of the county's richest men, bought the proposed church site in St Andrew Square to build his own home, something Craig was apparently furious about. Dundas' grand home is now the headquarters of The Royal Bank of Scotland, and the church was found a new home, in nearby George Street.
Craig's support of the Union and the Hanoverian royal family is obvious in the choices of the street names of the New Town. George Street, Queen Street, and Princes Street sit between the smaller Thistle Street and Rose Street, (representing England and Scotland) and the squares at either end were initially to be called St Andrew's Square and St George's Square for the patron saints of Scotland and England. However, another problem arose. Edinburgh already had a George Square, and so to avoid confusion, the square was renamed Charlotte Square in honour of King George's Queen. Some plans are never straightforward!
Construction began in Edinburgh's New Town 250 years ago this year in 1767. The New Town continued to expand well into the mid nineteenth century, and although many of the buildings facades, especially in Princes Street, have fallen victim to later ill thought out alterations, it still has the elegant feel of the Georgian era. Make sure to give it a visit the next time you're in Edinburgh, and walk the streets designed by a man with a vision of modernity.