Back to blog
5 Famous Outlander Locations in Edinburgh
14th Feb 2020
Outlander season five kicks off February 16th. The hit show has also been renewed for a sixth season which will likely air in 2021. To celebrate we've compiled a list of several Edinburgh locations featured on the show. Take a look!
*spoiler alert* If you haven't finished past season 3 yet save this in your bookmarks for later.
1. Craigmillar Castle
Craigmillar Castle is a must see if you're travelling to Edinburgh. Easily reachable from Edinburgh's city centre the site has links to Mary Queen of Scots.
In Outlander the castle played host to Ardsmuir prison after the Jacobite rising. Jamie, who was himself a senior Jacobite, was held there alongside others after he fought against the English. He later makes an escape.
Are you and your partner big Outlander fans? You can arrange to get married in the castle's great hall which can accommodate up to 60 people!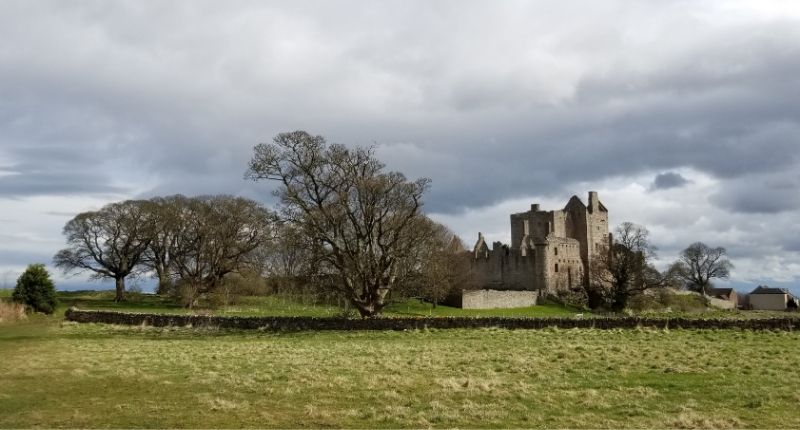 2. Bakehouse Close & Tweeddale Court
Although two different locations, Bakehouse Close and Tweeddale Court are in close proximity to one another along Edinburgh's iconic Royal Mile.
Bakehouse Close (renamed Carfax Close in the series) was the site of Alexander Malcolm's print shop. It's here that the romantic reunion between Jamie and Claire took place in season three after they'd spent 20 years apart. With its stone and wooden walls, it matches the time perfectly and you'll feel that blast from the past when you walk through it.
Tweeddale Court is a peaceful and rather hidden location but in Outlander it was transformed into the scene of a busy and bustling marketplace. Soon after their reunion, Claire accompanied Jamie there. It is here that they subsequently ran into Fergus, an orphan who is like a son to Jamie. Part of the area dates back to the 16th century and has a lot of interesting stories to tell in real life as well.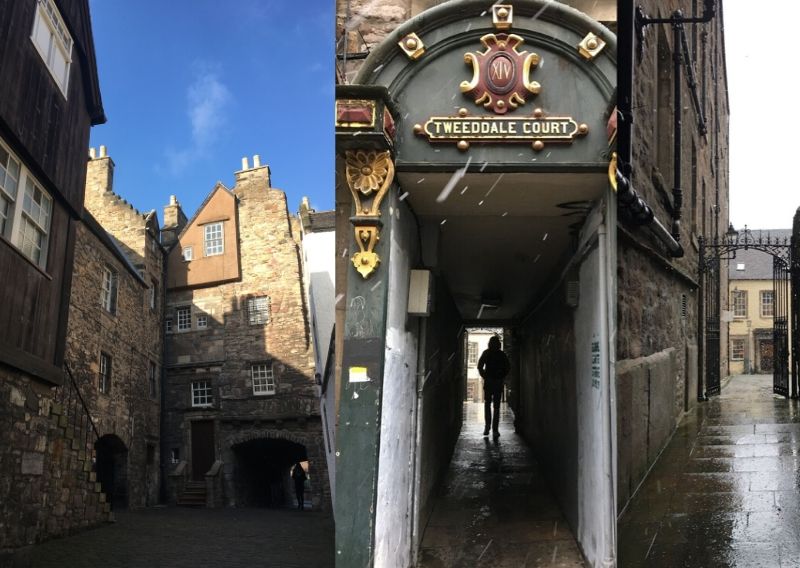 3. Signet Library
This beautiful historic building was a Jamaican mansion belonging to the governor in Outlander. In real life, it is a research centre and library located at Parliament Square. It's also home to the Society of Writers to Her Majesty's Signet made up of only lawyers/solicitors. 'Majesty's signet' refers to the private seal of the early kings of Scotland. Historically, the group of solicitors monitored the signets use to ensure it was being used appropriately. The society is one of the oldest of its kind in the world. In Outlander, Ned Gowan just so happens to be a former member of this exclusive group.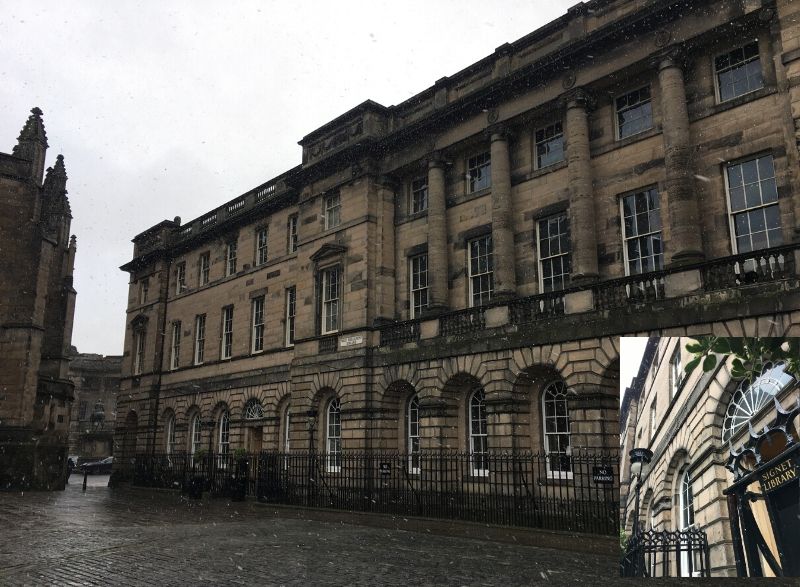 4. Palace of Holyrood
Situated at the opposite end of the Royal Mile from Edinburgh Castle is the Palace of Holyrood. Her Majesty, Queen Elizabeth II, often stays there during her visits to Scotland. Bonnie Prince Charlie lived there on his trip to Edinburgh in 1745. During which he proclaimed his father James Francis Edward Stewart was the rightful King of Scotland. He received a warm welcome as thousands of Jacobites flooded the Royal Mile. He could not gain Edinburgh Castle which was highly protected by the Hanoverians and so resided at the palace instead. However, as you'll read next, his stay was short lived.
In Outlander Jamie and Claire resided in the palace with Bonnie Prince Charlie. While there they try to convince him to stop the ongoing fighting at Culloden. It was the massive Jacobite defeat there in 1746 that led to the Prince's exile in real life and ended his tenure at the palace.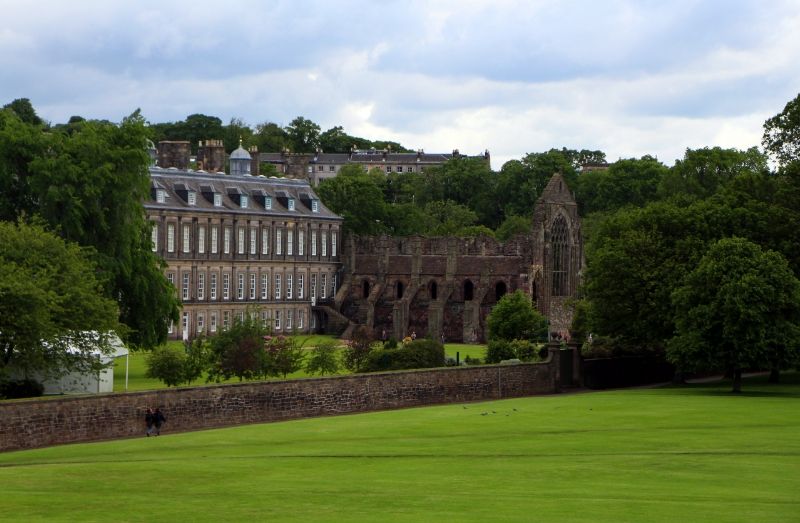 5. Summerhall
This brilliant building is a little further out from the city center than the others on our list but well worth a visit! Summerhall is an arts and events venue where many independent artists perform throughout the year. It used to be Edinburgh University's Royal (Dick) School of Veterinary Studies.
The location's old lecture hall is used in Outlander and is the place where Claire meets Joe Abernathy as the pair begin their medical studies.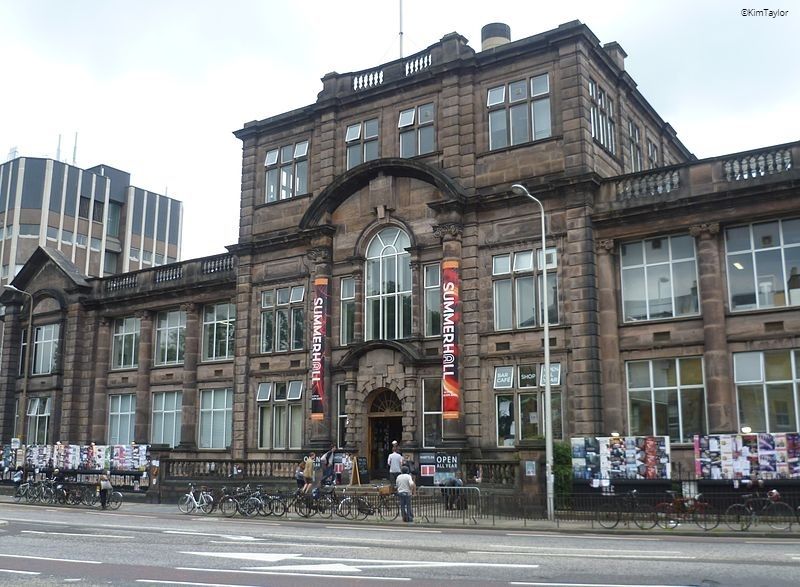 If you enjoyed this blog and would like to visit some of the sites written about, join us for our Edinburgh Outlander Experience tour! Looking to learn more about Outlander sites throughout Scotland? VisitScotland has an entire Outlander map of Scotland for you to explore.
Discover more of Edinburgh's fascinating tales and any updates related to Outlander in our fortnightly newsletter! Sign-up here.