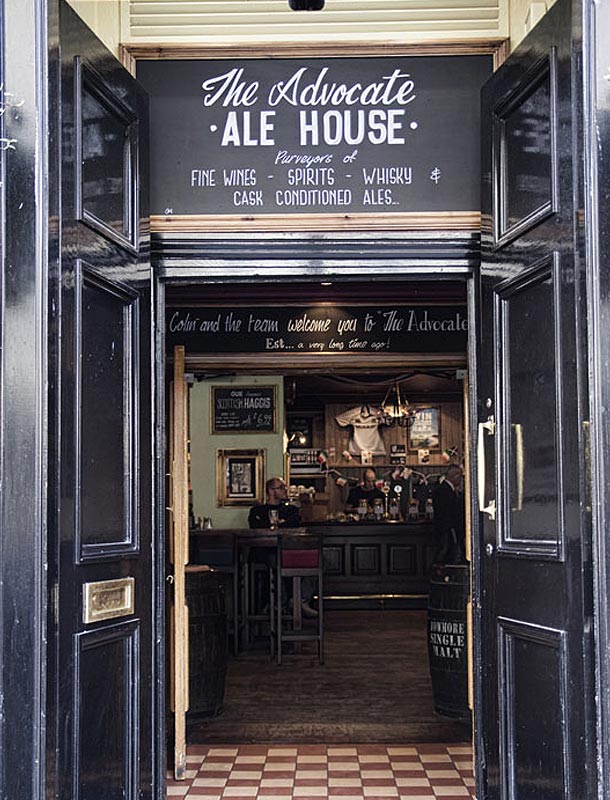 Straight across the road from the Mercat Tours office, you'll see the City Cafe. It's set up like an American diner. At time of writing, they do a very good offer on 3-pint pitchers. I can personally recommend the Calton Gold, it's very tasty and goes down dangerously easily.
If you're after somewhere a bit more traditional, continue up Blair Street towards the Royal Mile and you'll find The Advocate on the left hand side. Warm and cosy with a good selection of whiskies and guest ales, it's a good option for those who just want to unwind.
Opposite the Advocate you'll see the Tron. This is more of a student pub, with prices and a colourful atmosphere to match. Also on Thursdays, you might see my friend Graeme E. Pearson, a folk singer and pub entertainer, performing in the top bar.
In the other direction, towards the bottom of Blair Street, you'll find Cafe Voltaire. This is normally open till 3am, and is a very trendy place. I think you could call it "hipster", though I'm not an expert!
Of course I've barely scratched the surface here; the Old Town is rich in variety and character. Enjoy exploring it!
Mark, Guide and Pub Connoisseur