Corporate Entertainment
A Scottish Storyteller
About this tour
When the story happens to be rooted firmly in historical fact – and told with passion by a costumed storyteller – it takes the evening's entertainment to a whole new level.
Tales woven to suit your guests
Grave robbers. Royals with terrible secrets. Cold-blooded murder. The characters – and the tales – depend entirely on what will appeal most to your group.
We'll work with you to find a perfect compendium of unforgettable tales from Scottish history. The precise format is up to you, but your storyteller typically performs between courses, or after the meal.
Enquire about A Scottish Storyteller
Need help with your enquiry
Get in touch with us and one of our experts will be able to give you advice on our tours.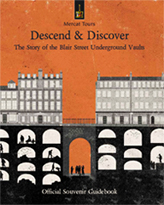 Souvenir Guidebooks
Don't forget to buy a Mercat Tours souvenir guidebook with your ticket.
See inside