History Walks
Tour & Whisky Tasting
In Summary
Discover the history of the Old Town and its connection with the finest "water of life"
Explore the lives of whisky blenders, smugglers and others involved in the industry
Hear of the evolving role that scotch whisky played in Scotland's past
Indulge in fine malt whiskies, while learning how your dram was create
Mercat exclusive audio devices - get immersed and lost in the stories...
18yrs+ due to service of alcohol
About this tour
Whisky Tour
Explore Edinburgh's Old Town, where the world's largest Scottish whisky company was founded and a vibrant history of "aqua vitae" (or the "water of life") began. Hear the stories of those who jump-started whisky production in Edinburgh, including the smugglers, bootleggers and other seedier characters of Old Town's underbelly.
We have King James IV of Scotland (commonly referred to as the world's first famous whisky drinker) to thank for Edinburgh's monopoly on whisky production in the 15th Century. He believed in the drink's medicinal properties, which is why the Guild of Surgeon Barbers was originally tasked with manufacturing it.
You'll also learn of 19th Century Old Town locals like George Ballantine and Andrew Usher Jr; pioneers of homemade whisky which ended up being exported worldwide.
These are just two of the many fascinating transformations that Scotch whisky has undertaken over the centuries, which we will explore as we wander the streets where these events took place.
Whisky Tasting
Colourful history, tradition and a candlelit whisky tasting
The tour continues with a whisky tasting in our candlelit Megget's Cellar. There's no better way to warm the spirits. You'll taste four Scottish whiskies, under the guidance of our whisky specialist.
Your expert will cover everything you need to know about the water of life; from how whisky is made to the effects that different elements such as water, barley, peat and the cask have on the production process. Nose and taste your way through the whisky regions, with sample whiskies from Speyside, Highland, Islay and Lowland distilleries. Just consider this your first step to becoming a whisky connoisseur!
Enquire about Tour & Whisky Tasting
Tour details
Tour location
Start point: Mercat Cross, High Street
End point: Megget's Cellar, Blair Street, off Hunter's Square
Need help booking?
Get in touch with us and one of our experts will be able to give you advice on our tours.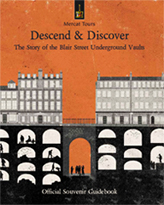 Souvenir Guidebooks
Don't forget to buy a Mercat Tours souvenir guidebook with your ticket.
See inside