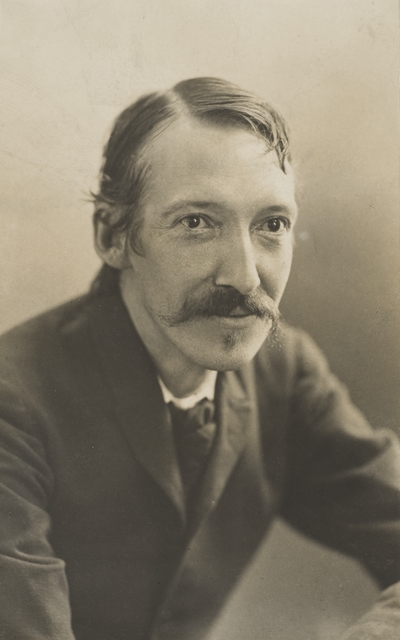 Robert Louis Stevenson was born at 8 Howard Place in the Canonmills area of Edinburgh on 13 November 1850. He went on to become one of the most famous and celebrated of all Scottish authors, with a worldwide army of fans. Edinburgh, his home city, celebrates his literary legacy by holding Robert Louis Stevenson Day each year on his birthday. A whole day of walks, talks, debates, book readings and exhibitions on this day continues the memory of one of Edinburgh's most famous sons.
Considered to be one of the most translated authors of all time, he came from a family of renowned civil engineers. His grandfather established a dynasty of the finest lighthouse builders ever known, still referred to collectively as 'The Lighthouse Stevensons'. This included his father, his uncles and his cousins but ultimately excluded himself. Early promise and talent in the family business were eventually dismissed in favour of a literary career. He acknowledged the family legacy by saying 'Whenever I smell the salt of the sea, I know I am near the work of my ancestors.' A compromise career in Law also came to nothing. His parents even had to bribe him a substantial sum to pass his law exams at The University of Edinburgh. He took the money, used it to fund foreign travel and drew upon such experiences in his future writings.
Poor health dominated his short life of only forty-four years. A sickly child, he grew to become an adult with major health issues, particularly of a respiratory nature. One of the reasons he left his home city was his dislike of the Edinburgh climate, famously describing it as 'One of the vilest climates under Heaven.' He married an older American divorcee, Fanny Osborne. On his wedding day in San Francisco, he was so ill he described himself as looking 'More like a corpse than a bridegroom.' They began to travel the world in desperate search of a climate which would prolong his failing life.
But he never forgot his Edinburgh home. During his honeymoon, halfway up a mountain in California, he poignantly wrote 'There are no stars in the sky as lovely as the street lamps of Edinburgh. Auld Reekie, if ever I forget you, may my right hand lose its cunning.' With his right hand he wrote his many literary masterpieces, including Treasure Island, Kidnapped and, most famous of all, Dr Jekyll and Mr Hyde.
He ended his days on the island of Samoa in the South Pacific in December 1894, dying of a brain haemorrhage, perhaps precipitated by tuberculosis. The natives there took him to their hearts calling him 'Tusitala' – the Teller of Tales – and buried him with reverence on their local mountain. His own pre-prepared eulogy 'Requiem' adorns his grave there and is repeated on his memorial plaque, many thousands of miles away here in St. Giles' Cathedral, Edinburgh.
Celebrated mostly for his famous historical and action novels, many of which have since been turned into films and TV programmes, he was also an extremely accomplished travel writer and poet. People the world over know his stories without even reading his books. A modified version of his alternative words to 'The Skye Boat Song' currently opens each episode of Outlander.
Apparently during his lifetime, and respected ever since, he never wanted a statue in his home city after his death. Apart from a charming recent statue of him as a child in the Colinton suburb, from which his mother came from, Edinburgh remembers him instead by a little headstone, surrounded by trees, in Princes Street Gardens. It simply states 'RLS – Man of Letters'. An Edinburgh man to his dying day, and a literary genius, it is more than appropriate that his home city commemorates him annually on his birthday by holding its Robert Louis Stevenson day. Some people even wear replicas of his trademark Victorian moustache for the day.
Join in #RLSDAY on twitter and share your love of RLS!