Back to blog
I'm no deid yet - The Story Of Paisley Close
21st Nov 2017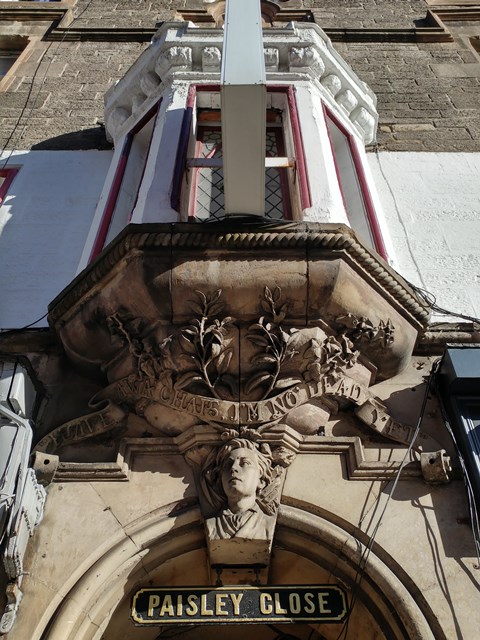 Walking along Edinburgh's High Street, most visitors may not believe that large parts of today's Old Town are actually younger than the New Town. Entire closes were demolished in the late 19th century to make room for newer buildings.
On 24 November 1861, shortly after midnight, the residents of Paisley Close right off the High Street were woken up by terrible rumbling. A seven-storey tenement collapsed, allegedly because a baker had tried to enlarge his oven. Unfortunately, he was… well, a baker. Not a stone mason, not a carpenter – he had no idea what he was doing, so he accidentally broke through a load bearing wall and caused the collapse. Of the 77 people who lived in that tenement, 35 were either found dead under the rubble or died later in hospital.
Due to the Highland Clearances, Irish immigrants fleeing the famines, and thousands of unemployed farm workers flooding into the city, Edinburgh's population had almost doubled within a few decades. Tens of thousands of people were crammed together in the closes of the Old Town; there simply was no more room. Flats were divided and subdivided until families of ten were living in one single room, mostly without proper sanitation and access to clean water.
The tragedy in Paisley Close was the last straw, a wake-up call for both the long-suffering population and the authorities. In 1867, the Council and Lord Provost William Chambers passed the City Improvement Act. Some of the most dilapidated houses were evacuated and torn down, wiping entire closes off the map. The buildings were replaced by modern ones – still without plumbing for the most part, but at least they were stable.
Among the newly built tenements was the one now standing at the entrance of Paisley Close. Above the alley there is a lintel showing the face of a young boy along with the words, "Heave awa' chaps, I'm no deid yet!" It reminds us of the tragic collapse of 1861, but in a more optimistic way: The pictured boy was named Joseph McIvor, 12 years old at the time. When the rescuers looking for survivors under the rubble were almost ready to give up, they suddenly heard him shouting the now iconic words.
However, would a 12-year-old Scot in the 19th century have used a word like chaps? Probably not. Perhaps the artist who engraved the lintel was an Englishman, or maybe it was supposed to be more understandable for English visitors? We'll never know, but fortunately, it helps us remember how the Old Town took its first steps into a brighter future.
Edinburgh's Old Town is littered with fascinating stories. Join our Secrets of the Royal Mile at 10am and 1pm Thursday-Sunday to find out even more!