Back to blog
Edinburgh Theatre Chronicles: Bedlam Theatre
25th Jan 2021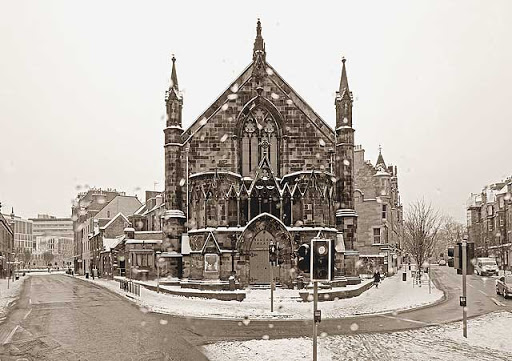 The theatre – a place where we go to relax, unwind and be entertained. A place where we can feel safe; possibly laugh, cry and share a wonderful memory with strangers. But what if it's not just the living who like to spend an evening at the theatre?
I'm Hannah, a storyteller with Mercat Tours and a long-time stage actor in Edinburgh. Follow me as we delve into some of Edinburgh's most fascinating theatre history, and discuss some of the residents who likely never left.
Where better way to begin than Edinburgh's oldest theatre, the Bedlam Theatre?
Not what most would classify as a stereotypical looking theatre, Bedlam was once a neo-Gothic church. Now owned by the University of Edinburgh and run by many students who share a passion for the performing arts, Bedlam Theatre also serves its purpose during the Fringe Festival as a 90-seater venue.
Built in the 1840s by an architect called Thomas Hamilton (who was heavily involved in the remodelling of Edinburgh's New Town), this theatre was the former New North Free Church.
It gets its name "Bedlam" as a reference to the city's first mental health hospital that once stood nearby, and held some secrets of its own. Maybe the fact that the asylum was so close by is the reason that so many people believe the theatre is home to the "Bedlam Ghost".
Would you go to the theatre to see if there's any ghostly goings on yourself? Or would you prefer to hear the encounters from other people? Let me mention a few of the strange occurrences before you make up your mind!
Ghosts of Edinburgh author Rob Kirkup was lucky enough to get a personal tour of the theatre with friends and hold his very own paranormal investigation – he didn't leave disappointed. Kirkup and his group captured images with strange white lights in them, heard constant murmuring and experienced other unexplained phenomena.
Some of the more spine-chilling evidence they caught was when asking the spirits for a name, Rob and his friends received the name "Frank" on more than one occasion. When asking for an age, they heard the numbers "four" and "two", which they believed could possibly mean 42. When asking again, they received a clearer answer that was indeed 42.
Throughout their visit, they continued to hear strange voices and footsteps that seemed to circle the gallery of the theatre above them.
But Rob and his friends aren't the only people to have experienced odd things. He explained in his book that the students who would use the space to rehearse, claimed to occasionally witness strange movements and shadows in the rafters.
When the students would have things randomly go missing, they would always make a light-hearted joke and blame it on the "Bedlam Ghost". They may have been joking, but is it too unrealistic to think that maybe, just maybe, something else not of this world is having its own bit of fun?
Have you ever been to Bedlam Theatre? Did you notice or feel anything strange? Or maybe you noticed nothing at all. Either way, I wouldn't like to be the one to lock up at night!