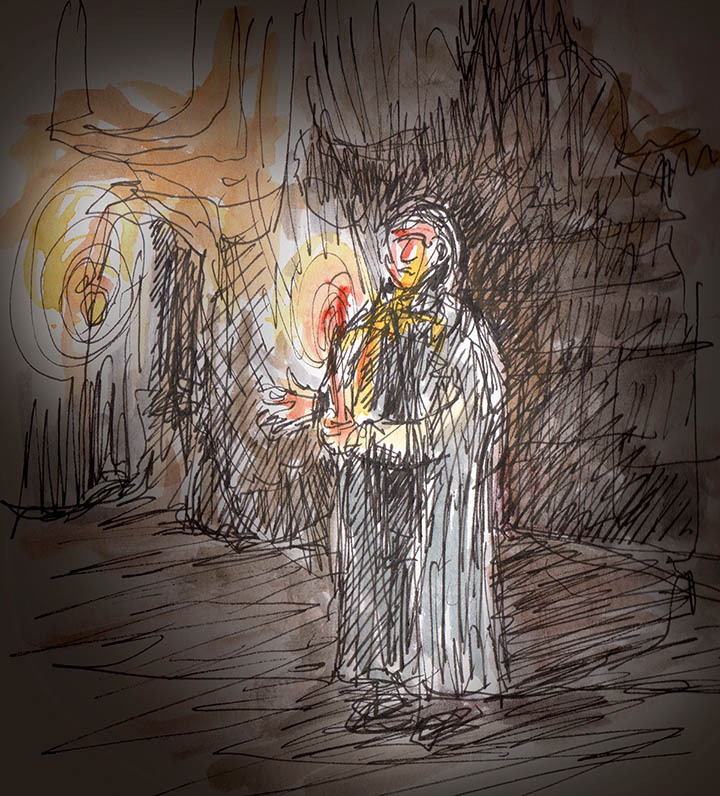 We at Mercat Tours are not a camera shy bunch. We're used to plenty of photographs on our tours, whether it be lenses peering down closes, or intrepid ghost hunters looking for that paranormal shot of a lifetime in the gloom of Blair Street Vaults. Having someone take out a sketch pad and start drawing is something that (as far as we know) had only ever happened once, and it could only mean one thing: the presence of the Edinburgh Sketcher.
Last year, we were lucky enough to be visited by Edinburgh based illustrator and designer Mark Kirkham, who is perhaps best known for his online art blog, Edinburgh Sketcher. While our guide took the group through the darkest recesses of the vaults, Mark captured the murky essence of our underground world in all its sinister glory, giving an incredible candid snapshot of what an hour in the 18th century recesses feels like. As subjective as art is, I'm sure you'll agree he did a great job!
If you're new to Edinburgh Sketcher, you really should pay the site a visit. Mark's illustrative talent gives a unique viewpoint on Edinburgh life, from the grandest of historical sites, to scenes of normal domestic life, children, pets, and cakes. There are trams and street scenes, buildings with scaffolding, nature, trees, coffee shops: everything you would expect to find in a normal day in the capital. Look closely and you might even spot a Scotch pie in there...
Edinburgh Sketcher is in many ways continuing an age old tradition of illustrating daily life in the city. In the 18th century the artist John Kay did something very similar, capturing the characters and social events of the day, most of which would simply be names in dusty history books if he hadn't granted them immortality. Who knows, perhaps in a few hundred years time we'll be looking at Mark's work to provide the same snapshot of domestic life, and wondering about the people and places captured in his sketch pads.
We may not all have Mark's artistic skills, but why let that stop you? We have created a very unique workshop with Mark that mixes storytelling and history with the art of creating quick sketches along Edinburgh's Royal Mile. You are very welcome to come along and try it for yourself - you may even learn something about this historic city we call home.