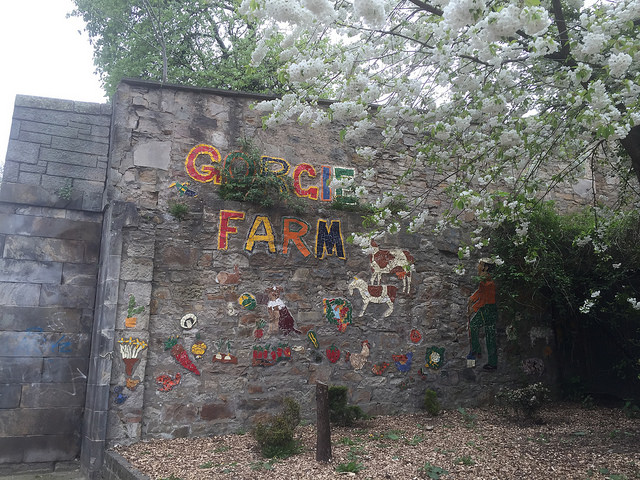 The days may be shorter, and the weather may be colder, but this does not mean that there is nothing to do in and around Edinburgh! In this blog, our very own guide Artemis picked 3 of their favourite places to visit outside of Edinburgh's city centre that are accessible during these Autumn days.

Edinburgh is an amazingly compact city - everything in the city centre is within walking distance. However, if you want to use one of the sunnier Autumn days to get out of the centre to see our beautiful Scottish landscape and experience our countryside it takes less than 30 mins with a single bus ticket. Plus, the bus costs only £1.70 each way but remember, they only accept exact change so be sure to have the right coins or you won't be going anywhere!

Blackford Hill and Observatory
17 minutes from South Bridge bus stop, bus 7 or 37 (to Royal Infirmary/Penicuik).
This is one of my favourite walks and it is less well-known than the hike up to Arthur's Seat. Get off the bus at Gordon Terrace and take Blackford Glen Road on the right. You will quickly find yourself in the depths of Scottish countryside. After a short uphill walk, you will reach the top of Blackford Hill, with stunning views across Edinburgh. From here not only will you be able to get a more original photo than that from Arthur's Seat, but you even get a good view of Arthur's Seat! You will also find the Royal Observatory up here. It is available to visit by pre-booking only, however the views are surely stunning enough to occupy your time.
Gorgie City Farm
18 Minutes from South Bridge bus stop, bus 3 or 33 (to Clovenstone/Baberton)
Gorgie City farm is a fantastic site, being run as a working farm. It may not be out in the fields but it will give you the experience of Scottish life. We are a country that founded much of its economy by the sale of sheep-wool, so this is an important part of our history. The farm has plenty of cute animals to fawn over, lovely gardens overflowing with vegetables and a café to refuel yourself. Access to the farm is by donation and it is a fun and relaxing way to spend an afternoon – for kids and grown-ups alike.
Portobello
27 minutes from Princes Street 26/124 (Tranent/Seton Sands/North Berwick).
You will know when you have reached the centre of Portobello - it is a very picturesque town on the outskirts of Edinburgh. I recommend getting off the bus at Portobello Town Hall. The town has a variety of lovely shops and cafes to explore, but to see that rough Scottish scenery head down one of the smaller streets away from the Town Hall and walk to the beach. From the promenade you have a striking view of the Firth of Forth, all the way over to Kirkcaldy on the opposite shore. On the promenade you can also find Turkish Baths and a gaming arcade with the penny-push games that we all know and love. Portobello is also home to possibly the best fish and chips in Scotland, according to TripAdvisor and (more reliably) my personal experience. Definitely give St Andrews Fish and Chip shop a go, and if you have not yet had the pleasure of trying our infamous deep fried mars bar... this is your chance.
These are just a few of the wonderful places waiting to be explored on Edinburgh's doorstep so if you have the time, buy a bus ticket and get out there. We are incredibly lucky to have so much nature around us and it would be a shame to miss it. I hope you have found some inspiration here, and enjoy your stay in Edinburgh!