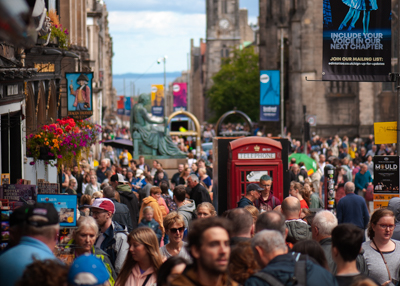 August is a wonderful, busy time in Edinburgh and to help make life a bit easier, we've gathered our Fringe Festival information in one place! Easily find where your tour will start, and get a few tips for staying sane during this loud and lively month.
1. Where does my tour start?
Your tour will begin at the Mercat Cross on Edinburgh's Royal Mile.
It's an 8-sided monument with a tall column topped by a white unicorn. You'll find it across the street from City Chambers, postcode EH1 1RF, and right next to St Giles Cathedral on the eastern side.
There, you'll see a big orange flag and a member of the Mercat Support Team wearing black, holding an iPad, and possibly waving around a black and orange umbrella trying to catch your attention through the crowds!
2. How am I going to hear the storyteller over the crowds?
We use TourTalk listening devices to ensure you can hear every word your storyteller has to say! You'll be given a device and a set of headphones when you check in, so you can tune out the crowds and immerse yourself in our storytelling. No more yelling over crowds or straining to hear! (And don't worry—it's a live audio feed, not a recording.)

3. I lost my confirmation email—can I still check in?
Absolutely! All you need to check in is the name you booked your tour under.

4. Do I have to book tickets in advance?
We highly suggest you book your tickets in advance to avoid disappointment. As we run small group tours, tickets are limited and tours tend to fill up quickly. You can book here on our website, phone us at +44 (0)131 225 5445, or visit the Mercat Cross and book in-person with our team.
5. I'd like to escape the festival for a little while—do you have any tours away from the busy city centre?
We know the festival can be overwhelming sometimes, but we're here to help! You can escape into the Blair Street Underground Vaults on one of our underground tours, or discover a quieter spot on our August featured tour: Treasures of the Old Town.
Also check out our previous blog on quiet places in the city to enjoy this August.

Whether you're here to perform, to watch as many shows as possible, or just here to soak up the atmosphere, Edinburgh is a wonderful place to be this month! Take a break from the crowds and join us for storytelling in one of Edinburgh's most exciting corners: the underground vaults.