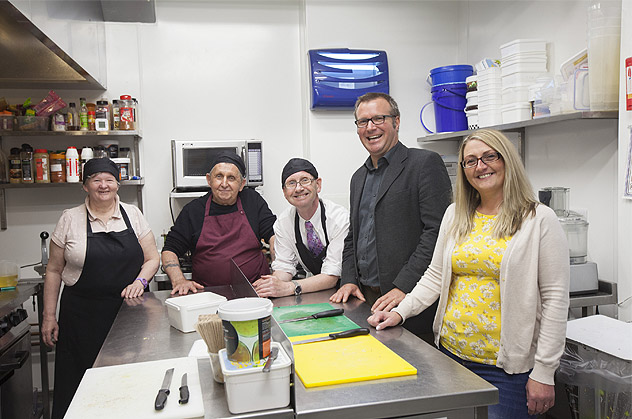 Many people, who live, work or frequent the Grassmarket and Cowgate area won't be aware of local charity Grassmarket Community Project. Yet, the Charity supported over 350 people, many of them homeless or experiencing a mental health issues and provided over 8,500 free meals last year alone. Mercat Tours have been supporting the charity ever since it was set up independent of its founders Greyfriars Kirk and the Grassmarket Mission in 2010 and before it moved into their award-winning building at the foot of Candlemaker Row in 2013.
The charity takes an innovative approach to creating a community which provides a mixture of support whilst providing people with the opportunity to be valued for what you can contribute – social enterprise. Their belief is that whether it's peeling a potato or carving wood everyone should have the chance to give something. Nothing helps someone more out of recovery than being valued for what you can do. Using mostly volunteers, many of them previously members, the charity delivers a dynamic range of social integration and educational activities aimed at re-connecting people with themselves, others and society. These range from cookery, art, drama, IT, reading, writing, sewing and photography classes to health and fitness classes.
The Project, thanks to the custom of individuals and businesses such as Mercat Tours supports over 30 people every week to train and volunteer across their 4 social enterprises. These include: a beautiful bright Events space (for up 200 people), a 7 day a week Café, A Furniture and Textiles business. They all teach skills, accredit learning and improve peoples chances of long term sustainable employment. 80% of their café staff came as adults with support needs and are now employed on the living wage thanks to customers like Mercat Tours own customers and the project's skilled staff team. The furniture Church pew re-cycling project has enjoyed commissions from many of Edinburgh's top hotels, public figures and businesses including the Edinburgh International Film Festival as well as of course Mercat Tours themselves (remember the beautiful trophies sent our last year!) The Charities textile enterprise has been producing beautifully handmade tartan gifts for over a year now and the Greyfriars tartan has been shipped to the US, Malaysia and Korea as well as being worn on Miss Scotland at the recent Miss world Competition and on a dog bed in Harrods, London. These achievements are tremendous confidence booster and vital source of pride for the individuals involved.
The Grassmarket Community project is described by its members as a lifeline, more like a close family member than a project. Members frequently tell staff that they do not know where they would be without the support of the charity and at times they go as far to say that they would have given up and wouldn't even be alive. The Charities lifeline can only be maintained with the support of people and businesses like Mercat Tours and their customers.
For more information about the charity or to support the work please contact jonny@grassmarket.org or go to www.grassmarket.org