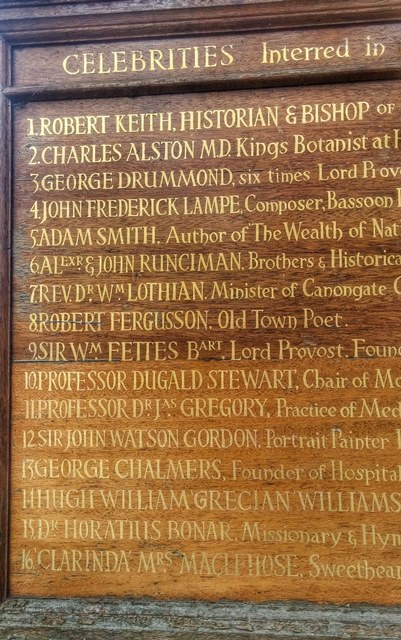 E for Ebenezer Scroggie
Most people will have heard of Ebenezer Scrooge, the mean old protagonist of "A Christmas Carol". But fewer people know of the original Ebenezer Scroggie, the man who inspired Charles Dickens in 1841 to write this wonderful story of regret and redemption. Back then it was common for gravestones to remind passers-by of the deceased's profession: "Ebenezer Lennox Scroggie, a meal man" - a corn merchant and vintner. Charles Dickens, however, couldn't help but wonder why anyone would write something so horrible onto a man's gravestone: "Ebenezer Lennox Scrooge, a mean man". In a mild bout of dyslexia perhaps, he misread both name and profession and that's all it took for that spark of inspiration to start burning.
The gravestone itself is lost now, but Canongate Graveyard can still be visited today. You can join us on our Treasures of the Old Town tour every day to explore the Canongate.
F for Flora McDonald
Defiant pride and unwavering loyalty to the House of Stewart, these are the traits associated with the Jacobite rebels of the 18th century. But sometimes the most rebellious act is not to take up the sword but to reach out a helping hand to those in need, as is evidenced by the story of Flora McDonald. Having helped Bonnie Prince Charlie escape after the lost Battle of Culloden in 1746, she was taken prisoner and first brought to Edinburgh, where she had spent her childhood years, and then to the Tower of London. Released one year later, she emigrated to America but returned to Scotland in 1779.
G for Graveyards
Edinburgh is by no means a large city, with 500,000 inhabitants it has managed to fuse its small-town charm with metropolitan opportunities. Yet within Edinburgh's city centre one can find no less than five historic graveyards.
From the haunted tales of Greyfriar's Kirkyard to the resting places of the greatest minds of Scottish Enlightenment in Canongate Kirkyard and Old Calton Burial Ground onwards to New Calton Burial Ground and St. Cuthbert's Kirkyard, where historical watchtowers guarded the peace of the deceased against Resurrectionists; these atmospheric grounds are well worth a visit.
So what do you think so far? We'd love to hear your favourite Cs or Ds of Edinburgh!