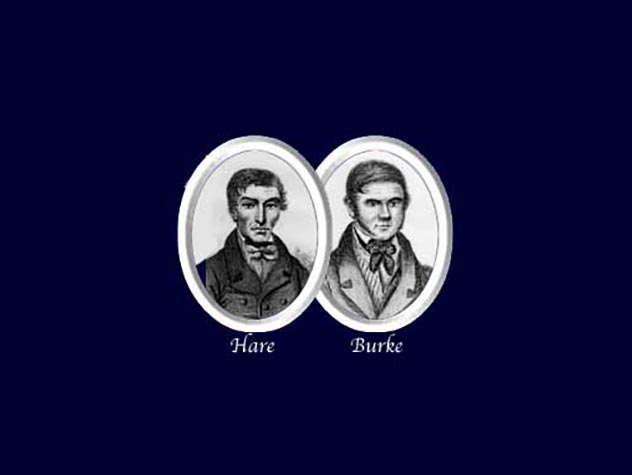 Not quite feeling spooked enough in the build-up to Halloween? Here's another pair of eerie oldies to get you in the mood.
John Chiesley
John Chiesley was hanged for murder in 1689, but not before his right arm was severed and placed on a spike. His body was stolen from public display soon after his execution and was only found in 1965, hidden behind a fireplace in a house in the Dalry area of the city. Until the body's rediscovery, it was said that the spirit of John Chiesley wandered the closes of the Royal Mile dripping blood from the stump of his severed arm, earning him the nickname of 'Johnny One Arm'. Only when his body was given a legitimate burial did the sightings stop, but don't rest too easily: his right arm was never recovered. If you find yourself in one of our closes late at night and feel a ghostly tap on the shoulder, it might just be the last unrested part of Johnny One Arm, trying to get your attention.
William Hare
William Burke and William Hare achieved notoriety in the 1820s for being the most prolific serial killers of their generation, killing at least 16 people for the purpose of selling their bodies to the doctors at the medical school. When they were finally arrested Hare turned Kings Evidence, forcing Burke to shoulder all of the blame for the killings, and sparing himself from the gallows. Whilst Burke hanged for the crimes in January 1829, Hare was taken by mail coach to Dumfries, where he was quickly recognised. After being taken to the local tolbooth for his safety, he was smuggled out in a convoy of decoy carriages and was last seen heading towards the English border, near Carlisle. But what became of him? No one knows. Some reports claim that he made his way back to his birthplace in Ireland, whilst others say he was mobbed and thrown into a lime pit, leaving him blind, and ended his days begging on the streets of London. We will never know his true fate, but it's a terrifying thought that one of Britain's most notorious killers was left to roam free, and possibly to kill again.