Back to blog
The Life & Times of Mary Queen of Scots
7th Feb 2020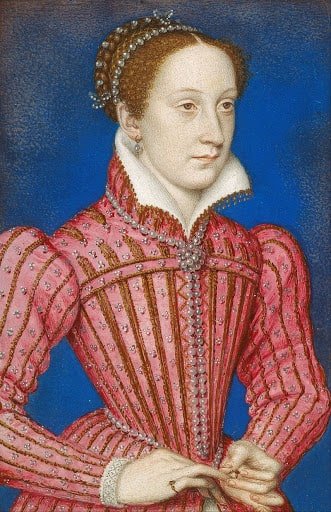 Like many royals, Mary Queen of Scots lived a tumultuous life. Plenty rested on her shoulders. Unfortunately, not all went to plan.
Who was Mary Queen of Scots?
Mary Queen of Scots is one of the most recognised royals in Scotland's history. She ascended the throne on the 14th of November 1542 at only six days old, after her father's unexpected passing. Because she was so young, she could not preside over the country. Hence, the throne was ruled by regents while Mary was sent to France.
She lived and studied there for several years going on to marry the Dauphin of France. Upon his death in 1560 she returned to Scotland aged 18.
Mary Queen of Scots and Edinburgh Castle
When Mary returned to Scotland in 1561, the royal procession celebrating the event was held at Edinburgh Castle. Over the years the Castle was the heart of numerous royal occasions involving Mary. She held many grand activities there such as large feasts and entertainment.
She was the first monarch to be crowned using both the crown and sceptre of the Honours of Scotland which are now kept at Edinburgh Castle. She also gave birth to her son King James VI there in 1566, a son who would later take the throne.
Mary Queen of Scots and Lord Darnley
When Mary returned to Scotland she was in an unsteady position. She had been raised Catholic while in France. However, Scotland was at this point largely Protestant. Mary managed to evade any disasters by practising her own beliefs in private.
Yet, she made a mistake when she fell in love with and married her half-cousin, Lord Darnley. Darnley was from the Lennox family which had many enemies in both England and Scotland. He was known to be a greedy and jealous man which eventually led to him murdering Mary's secretary, David Rizzio. Darnley was subsequently assassinated himself in 1567.
Mary ended up marrying James Hepburn 4th Earl of Bothwell the suspected, but acquitted, killer of her husband. There was a strong objection to the relationship from the shocked Scottish public, who labelled Mary an adulterer and potential aid to her ex's murder. This led to her being imprisoned in Loch Leven Castle and forced to abdicate. As a result, her one-year-old son ascended the throne.

Mary Queen of Scots and Queen Elizabeth I of England
Mary eventually escaped and tried but failed to regain her position as queen. After which she fled to England where she sought safety from her cousin Queen Elizabeth I of England. The pair had never met but had exchanged letters over the years.
Tragically for Mary, her cousin was threatened by her. Especially because she had once claimed Elizabeth's throne as her own and was considered as England's legitimate sovereign by many Catholics. Hence, Elizabeth confined Mary in several castles and manors over the years. It is said that she ensured her Scottish cousin was always provided with a certain standard of luxury. This was until 1586 when Mary Queen of Scots was executed at age 44 when a supposed plot to assassinate Elizabeth was uncovered. It is rumoured Mary's last words were thanking the axeman for putting an end to all her troubles.
Overall the tale of Mary Queen of Scots is an intriguing one. Some say that while Mary lost in life she won in death, after Elizabeth died without leaving an heir. This meant Mary's son, King James VI and I, was the first to rule over a united Britain.
To learn more about Scotland's history join us on our Secrets of The Royal Mile tour where you can add on entry into Edinburgh Castle.