Private Tours
Treasures of the Old Town
In Summary
Meander through the ancient, picturesque closes and gardens of Edinburgh's Canongate
Hear the lesser known tales of fascinating and often scandalous events that took place in the lower section of the Royal Mile (which contains more historic buildings than the upper half!)
Delve into the escapades of famed Edinburgh characters like Mary, Queen of Scots
Explore Holyrood Palace, Her Majesty the Queen's official residence in Scotland
Mercat exclusive audio devices - be immersed and get lost in the stories...
Choosing Mercat is 'Good for you, Good for Edinburgh' - our team, community and planet
About this tour
History walk in Edinburgh
Explore the hidden treasures of the Royal Mile – and let your expert guide unlock the history of this ancient seat of power. Discover the lesser known history of the Canongate, and the glorious Palace of Holyroodhouse.
Unearth a pathway to Holyrood Palace that escapes the notice of history books and Edinburgh bus tours. Explore a lesser known but equally captivating side of Edinburgh Old Town's vibrant history as you journey down the quiet closes of the Royal Mile.
Your expert tour Storyteller will immerse you in the rich, engaging history of the rebellious Jacobites clattering over the cobbles, led by a proud Bonnie Prince Charlie. You'll explore the closes, courtyards and hidden gardens of the Canongate, once a thriving town in its own right. Discover the stories of the people who lived here, from the nobility in their fine houses, to the writers and poets who made this their home and the Guilds and trademen who worked in these streets.
In the hands of your gifted Storyteller on this walking tour, you'll find that romance and intrigue are everywhere – in the architecture, literature, crime and politics, on the very doorstep of the Queen's Palace.
From rebels to royalty
Explore the Palace of Holyroodhouse, equipped with your newly acquired knowledge of the Canongate's history.
At the conclusion of your tour, you have the option for fast track entry and 15min introduction to the glorious Palace of Holyroodhouse. You are then free to explore the 14 magnificent state apartments, as well as the romantic ruins of the 12th Century Holyrood Abbey, at your own pace.
Long before the Palace was used by Her Majesty the Queen for modern day royal ceremonies, it was the setting for many dramatic episodes in the short reign of Mary, Queen of Scots, which you'll hear all about during this tour.
The full Treasures of the Old Town with an introduction to the Palace of Holyroodhouse from your storyteller, takes 1 hour 45 mins – simply choose this option when you book. We recommend planning on an additional 1.5 hours to visit the Palace.
Prefer to join us for the 1.5 hour walking tour without the Palace? That's absolutely fine – there's plenty of history to explore in Edinburgh's Old Town.
This tour explores the lower half of the Royal Mile. Want to know more about High Street and Lawnmarket? Try our Secrets of the Royal Mile tour where you can visit Edinburgh Castle.

Palace image photographer: Ian Jones. Royal Collection Trust / © Her Majesty Queen Elizabeth II 2018
Enquire about Treasures of the Old Town
Tour details
Tour location
Start point: Mercat Cross, High Street
End point: Holyrood Palace, Canongate
Need help booking?
Get in touch with us and one of our experts will be able to give you advice on our tours.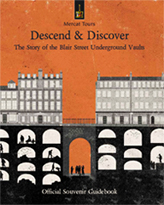 Souvenir Guidebooks
Don't forget to buy a Mercat Tours souvenir guidebook with your ticket.
See inside