Back to blog
The Top 7 Places for Autumn in Edinburgh
21st Sep 2018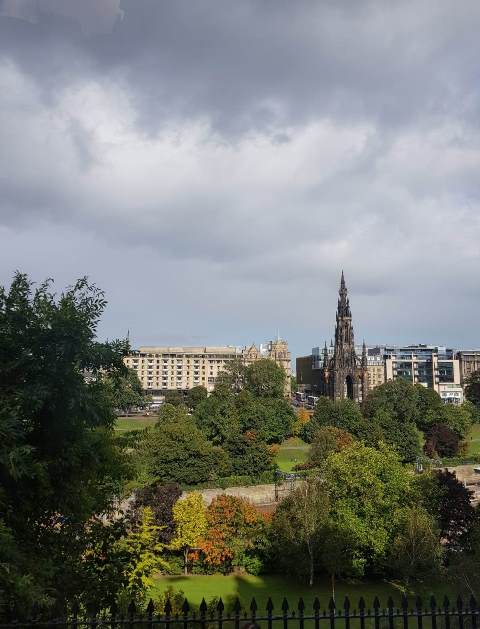 On September 23 we celebrate the September Equinox, officially the first day of Autumn. It got us thinking about the best places to see autumn in Edinburgh. The city has a calm attached to it from the madness and drama of August's Edfringe. The kids are back in school, the streets are quieter and an autumnal vibrant colour palette sits on the horizon. As the leaves begin to change, the Scottish capital becomes a very special place – a vast variety of hidden (and not-so-hidden) pockets to wander to your heart's content. So without any further ado here are seven Edinburgh locations guaranteed to captivate you this autumn:
1. Princes Street Gardens
Situated in the very heart of the city, Princes Street Gardens has been a familiar spot to the people of Edinburgh for over 200 years. It's hard to believe that it was once the location of a murky brown swamp known as the Nor Loch. Today there are several interesting monuments here along with the newly renovated Ross Fountain -the result is a truly majestic place for an autumnal walk. There's nothing in Princes Street Gardens not to love.
2. Dean Village
For anyone arriving into Edinburgh via Queensferry Road, you will eventually find yourself crossing over a large stone bridge. This is the Dean Bridge, beneath which is a wooded valley with a small river winding down the centre. Wander down this way, and you'll find yourself strolling alongside the Waters of Leith, one of Edinburgh's most picturesque hidden gems.
3. Blackford Hill
If you find yourself in the Marchmont area you not only will you have the option of enjoying a leisurely stroll through the Meadows, but for more of a hike, you can continue south to Blackford Hill. From here you can visit the Royal Observatory, enjoy spectacular views of the city from an angle lesser known to visitors, or continue to Hermitage of Braid Nature Reserve, a peaceful forest to watch the trees change.
4. Easter Craiglockhart Hill
The Craiglockhart nature trail is the perfect place to slip away from the surrounding suburban landscape and get lost in a forest. A bit further down towards the Craiglockhart campus for Edinburgh Napier University, you'll also find a pond area teeming with life. Here you'll find the different tracks to join this nature trail - it's an ideal place for getting properly lost.
5. Calton Hill
Much like Princes Street Gardens, Calton Hill is a location familiar to anybody who has visited Edinburgh. With its Athenian-style architecture and proximity to the city centre, the hill provides a very quick and easy viewpoint to enjoy the sights of Edinburgh.
6. Blair Street Vaults
Autumn can often bring wetter days which makes the Blair Street Underground Vaults a perfect option for discovering more about a hidden part of Edinburgh whilst keeping dry. Of course, we can't talk about autumn without mentioning the magical time of year it brings - Halloween! We always have lots of activity in Edinburgh over this traditional Celtic celebration with costumes planned months in advance!
7. The Innocent Railway Tunnel
The paths of the old train lines are fun to explore. They provide one of the most serene examples of escapism the city has to offer. With the railway tracks long since replaced with tarmac, these old routes run alongside the Waters of Leith and criss-cross each other with ease. Loved by cyclists, dog-walkers, joggers and commuters, these pathways are a testament to Edinburgh's commitment at finding beauty in the old, and when the leaves start to turn brown then these old paths can make for a truly magical wander.