Back to blog
They seek me here, they seek me there
30th Mar 2015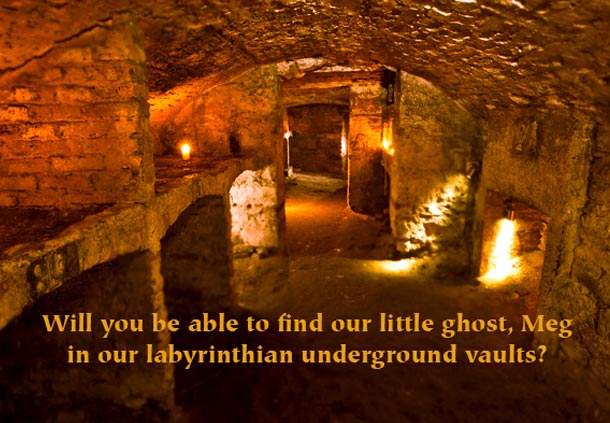 As the resident friendly ghost at Mercat Tours, my life is a whirl of social activities. A haunting here, and spooking there, always another hot (or indeed cold) spot to grace with my presence. Inevitably, I spend a lot of my time leaving my ghostly wares scattered around the Old town of Edinburgh, never to be seen again - lost in time.
It's such a problem.
I retrace my ghostly floating steps, I leave spooky signs for our office staff, but more often than not, my cries for attention go unanswered.
But this Easter, I hear things are about to change.
At last, people are coming looking for me, yes me!
I doubt they'll help me find my large jangling bunch of ghost keys, but nevertheless, it's about time careless old Meg got a bit of attention.
I'm used to people coming for looking for things at Mercat Tours. Day in, day out, people come to my Vaults to find things. They come with cameras and meters, hunting out our sinister spirits, waiting and hoping to find the inexplicable around every corner. And even on our history tours, people come to find the lost secrets of Old Edinburgh, things buried in history books or otherwise lost in the mists of time. Often if you seek, you'll find the most surprising things buried in the closes and courts of this fair city.
But they never come looking for me.
But at last, this Easter, things are about to change!
Mercat Tours are having two weekends of treasure hunts where you can find who else but me, hiding in their shadows. I did roll my ghoulish eyes when they decided to call it the 'Easter Meg Hunt', but even still, I have set myself to work, finding the hardest hidey holes to conceal myself in, and I eagerly await being found by you curious seekers.
Please do come and find me! There'll be prizes.
But in the meantime, I'm floating off to have one last look for those keys...
The Easter Meg Hunt will take place at 11.30am on Saturday 4th, Sunday 5th, Saturday 10th and Sunday 11thApril (duration 1hr 15mins) Tickets are £7, and the tour is open to all ages from 5 years upwards.