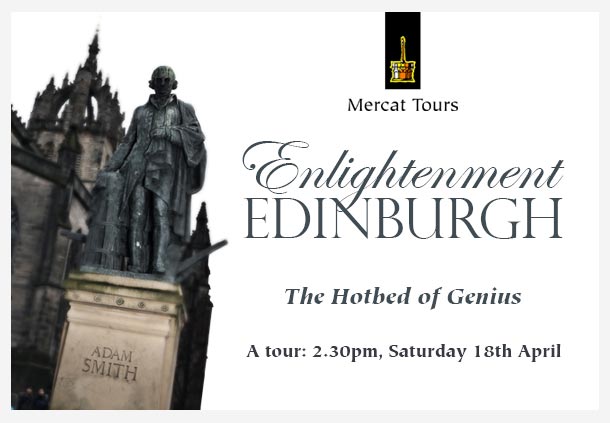 We tested our witches by throwing them into the filthy waters of the Nor Loch, before burning them in the brooding shadow of Edinburgh Castle. We threw buckets of waste onto our streets that would fester and stink through the hot summer months, and take a look at many of our old buildings and you'll see oyster shells imbedded into their walls: a sure fire way to prevent evil from entering your home.
But what is often overlooked is the point in time where these peculiar superstitions and ruthless punishments began to dissipate, and eventually cease. This period in the early 1700's may lack the Horrible Histories appeal of times previous, but it is the foundation of modern civilisation and the beginning of a period now known as the Scottish Enlightenment. Edinburgh in the Eighteenth Century was at the epicentre of a new wave of scientific discoveries and philosophical thought, and was home to some of the greatest figures of the age.
Among our residents we could boast Adam Smith, author of The Wealth of Nations, geologist James Hutton, Walter Scott, David Hume and James Boswell, some of the greatest figures of their time that still influence their fields to this day.
But these great men are more than just names in textbooks.
They were lively characters who would haunt the assembly halls and oyster bars, discussing their work late into the night. There were the quirky geniuses such as Joseph Black, the founding father of modern chemistry who insisted on travelling by sedan chair long after it had fallen out of fashion. And the hobbyists like David Hume; not just a philosopher but a keen cook, who complained about his flat in James Court not being large enough to allow him to indulge properly in his passion.
Why not come and discover the figures that changed our world, and the streets they walked 300 years ago? You may just find yourself, enlightened.
Join the Edinburgh Enlightenment tour on Saturday 18th April at 2.30pm. Tickets £12 Adult, £10 Concession, £7 Child.