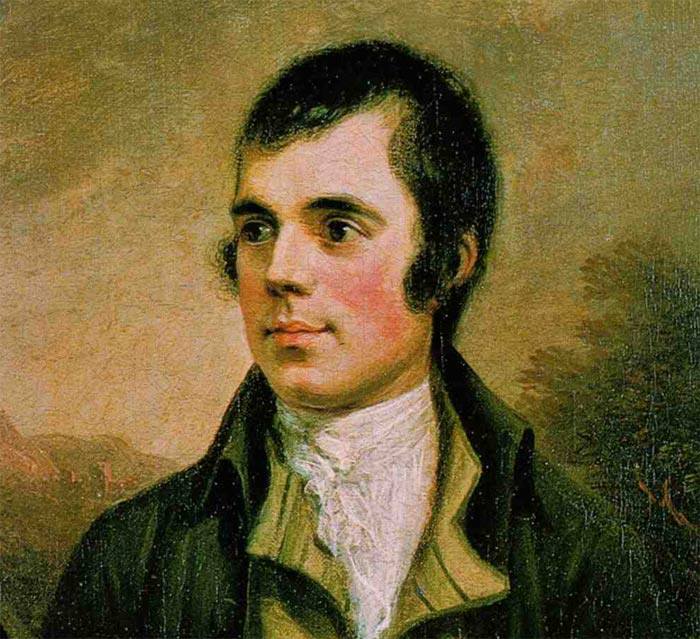 By Simon Bendle, Mercat Storyteller
Burns Night is a highlight of the Scots calendar, an annual knees-up to rival Scotland's official national day, St Andrew's Day.
It is of course a celebration of the life and work of the great Scots poet Robert Burns, falling on his birthday, 25 January. Burns Suppers typically feature recitals of his work together with music, dancing, haggis, and whisky. But who was Robert – or Rabbie – Burns, the man they call the Ploughman Poet? And why is he still celebrated so enthusiastically more than 200 years after his death?
Robert Burns's life
Burns was born into a poor farming family near Ayr in the west of Scotland in January 1759. He had a tough childhood, working in the fields from a young age. The eldest of seven brothers and sisters, Burns grew up in a two-room cottage built by his dad, William, a self-taught man who passed on his learning to his kids. Burns considered emigrating to Jamaica in his twenties. As well as publishing poems, he also farmed and, later, took a steady job as an exciseman.
Robert Burns's poetry
Burns wrote brilliantly in Scots, English and Scots-English dialect, and his work is by turns witty, tender, political, sentimental, bawdy, satirical and sincere, not to mention unashamedly romantic. His greatest poems and songs include "To A Mouse", "Tam O' Shanter", "A Red, Red Rose", and "A Man's a Man for A' That". He also wrote the words to the song "Auld Lang Syne".
Robert Burns's love life
Burns had a colourful love life, fathering at least a dozen children with various women. His first child was with his family's own farm servant, Elizabeth Paton. Around the same time, he began a complicated on-off relationship with Jean Armour, whom he would eventually marry. Jean bore him nine children. Burns also had a platonic love affair with an Edinburgh lady called Nancy MacLehose – aka "Clarinda" - while simultaneously seducing her maid, Jenny Clow, who became pregnant. A fling with a barmaid, Ann Park, resulted in another daughter. Burns is said to have more than 900 living descendants.
Burns's death
Worn out by hardship and hard-living, Robbie Burns died at his home in Dumfries on 21 July 1796 – he was 37 years old. His son Maxwell was born four days later, the day of his father's funeral. In 1801, nine of Burns's friends gathered to mark the fifth anniversary of his passing – the first Burns Supper.
Burns's Influence
Today Burns is more than just a beloved national poet – he is a symbol of Scottish national identity around the world. There are statues, monuments, and streets named after him across the globe. His work has influenced writers and artists as diverse as William Wordsworth, John Steinbeck, and Bob Dylan. In Russia, he is regarded as a poet of the people. There's even a crater named after Burns on Mercury.
Learn more about Burns and other iconic Scottish figures on our Edinurgh history tours and get 50% off this month with code VSDAYOUTS21.