To celebrate International Women's Day we're looking at some of the women of Edinburgh, past and present, that inspire us:
Jane Wigham
Born in 1801 in Glasgow, Jane was raised as a Quaker in Edinburgh' South Gray Street, later moving to Aberdeen. Early in her life she was to form the Glasgow Ladies Emancipation Society, an organisation devoted to the abolition of slavery. Her involvement predates the Free Church's involvement in the cause and an address that she prepared for Queen Victoria is credited with finally bringing slavery in the Caribbean to an end. Later in her life, Jane set up the Edinburgh chapter of the National Society of Women's Suffrage and was a driving force for women's suffrage.
Prof Lesley Yellowlees
Although not born in Edinburgh, Dr Yellowlees has lived most of her life and accomplished much in her adopted home city. Lesley was the only woman to graduate in the Chemical Physics class of 75 at the University of Edinburgh, obtaining first-class honours. After a period performing research at the University of Queensland she returned to her alma mater and obtained her PhD in Organic Electrochemistry. She rose through the ranks and became the first woman elected as the president of the Royal Society of Chemistry.
Dr Elsie Inglis
A hill-top summer retreat in Northern India was the birthplace of Elsie Inglis in 1864. Her parents were remarkably enlightened and insisted that their daughter deserved just as proper an education as any boy would have. She studied in Paris and then Edinburgh where she began her training as a doctor. She was instrumental in the establishment of a dedicated maternity hospital in Edinburgh, known as The Hospice. She was known to waive fees and pay for patient's expenses out of her own pocket.
She became increasingly active in the women's suffrage movement in and after the outbreak of the WW1 she began forming Medical Units composed of qualified female doctors to assist in the overseas war effort. Rebuffed by the British military and medical establishments, her doctors were welcomed by the French, Russian and Serbian governments. They proved to be much-needed, tending to a great number of injured combatants. She oversaw operations in Serbia and Russia but was forced to abandon her work due to cancer.
She died in Newcastle and was interred in Edinburgh, her body lay in state in St Giles Kirk and her funeral was attended by both the British and Serbian monarchy. Highly decorated by the Serbian government and commemorated extensively; in memorials, plaques and even the construction of the Elsie Inglis Memorial Hospital in Edinburgh.
This year, we were delighted to announce our support for the campaign to raise a statue for Dr Elsie Inglis in Edinburgh - get involved with a #statueforelsie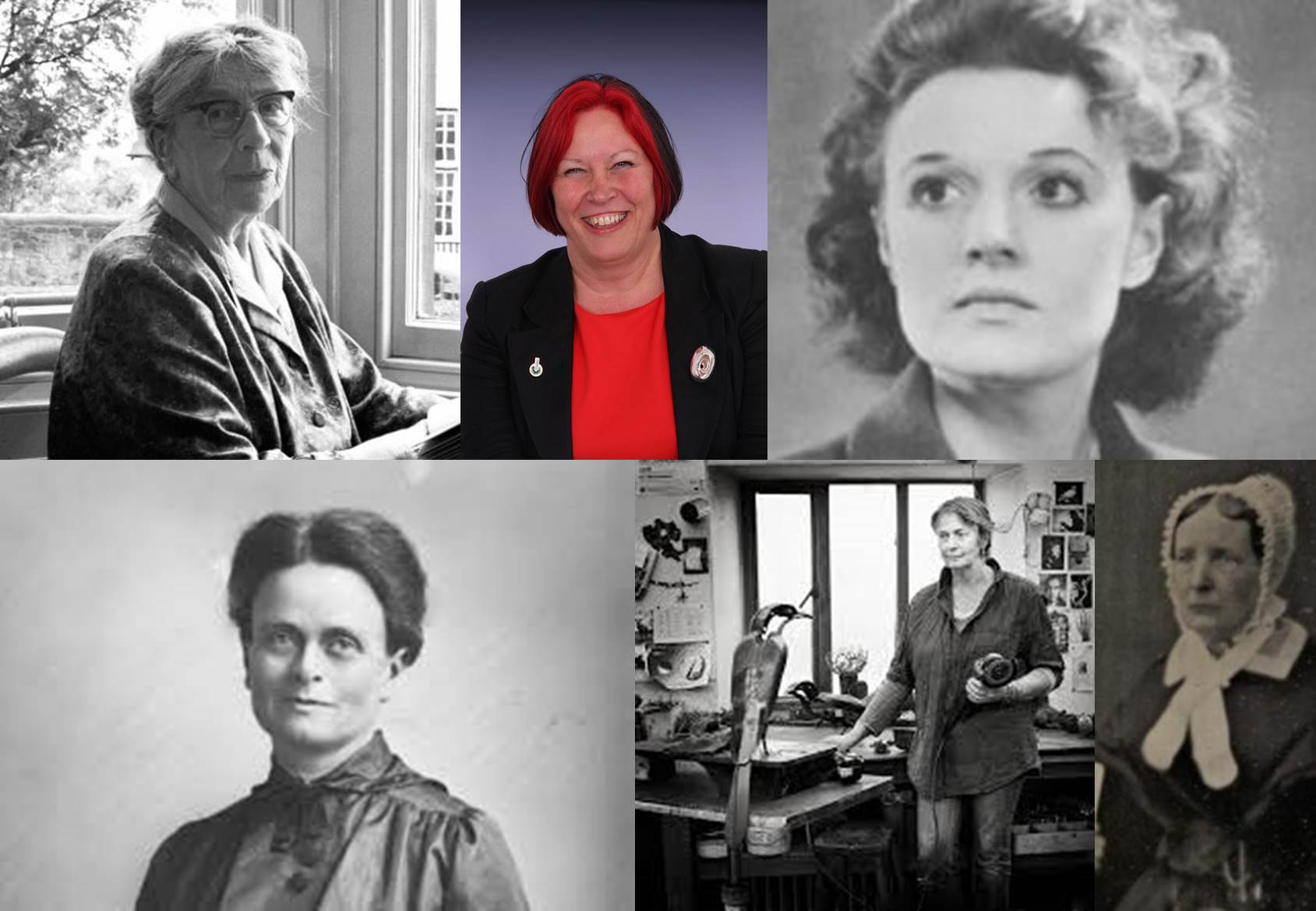 Top (l-r) Helen Cruickshank, Lesley Yellowlees, Muriel Spark
Bottom (l-r) Elsie Inglis, Helen Denerley,Jane Wigham
Helen Cruickshank
Originally from Angus, Helen spent her childhood studying in Montrose. She moved to London in 1903 and spent the next 9 years working for the postal service before relocating to Edinburgh, the city that became her home. Upon her return to Scotland, she became active in the Suffragette movement. She was also known for her support for Scottish independence and was a founder of Scottish PEN, an association dedicated to the protection of literature and a free press. Helen became one of the focal points of the Scottish Renaissance, encouraging and supporting the work of many poets and authors.
Muriel Spark
In the last year of the Great War, Muriel was born in the Bruntsfield district of Edinburgh to a Jewish father and Presbyterian mother. After her studies, she spent some time teaching English before marrying and moving to what is now Zimbabwe. Her marriage was not a happy one and she separated from her partner, eventually leaving him and their son to return to the UK in 1944. She took work with MI6's black propaganda unit and was involved in producing, in her words; "a tangled mixture of damaging lies, flattering and plausible truths.". She took the skills she had acquired and applied them to her writing, producing much poetry and a myriad of acclaimed novels.
Celebrated in her own time, Muriel continued to write into her 80s. In 2006 she died at the age of 88, she was buried in the Tuscan town that had become her home. This year marks the centenary of her birth with lots of events taking place.
Helen Denerley
Hailing from the village of Roslin, just to the south of Edinburgh, Helen Denerley is a world-renowned sculptor who was born in 1956. She attended the Grays School of Art in Aberdeen and has been producing art ever since. Known for her use of scrap-metal and her keen eye for the natural world, she has produced a myriad of beautiful artworks. Her pieces can be found from the shores of the South China Sea to the Iberian Peninsula. Her artwork can also be seen on the streets of Edinburgh, giraffes towering over passers-by, cleverly utilised negative space drawing the eye.