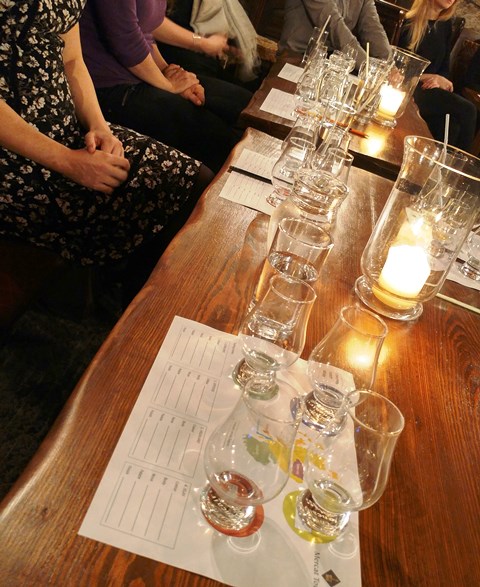 World Whisky Day - 19 May 2018
As plans for Edinburgh's first single malt whisky distillery in 90 years and a £150 million pound immersive whisky visitor experience in the historic capital city are announced, award-winning storytellers, Mercat Tours are encouraging locals and visitors alike to celebrate World Whisky Day (Saturday 19 May 2018) with their exclusive Edinburgh Tour and Whisky experience (new for 2018).
Taking place at 4pm every Saturday (including an additional 2pm tour on World Whisky Day itself), a kilted Mercat tour guide, will tell the true story of the city that founded the world's largest Scottish whisky company and the people that helped whisky production. At the end of the tour, visitors will retire to Megget's cellar in Edinburgh's historic Blair Street Underground Vaults (which can only be accessed on a Mercat Tour) for a complimentary candlelit single malt whisky tasting from Scotland's four whisky-producing regions.
Explaining what people can experience on this new tour, Kat Brogan, Managing Director said:
"Walking around Edinburgh's historic streets, we will begin by telling the story of how King James IV of Scotland and I of Britain, who has been referred to as the world's first famous whisky drinker, granted a monopoly to Edinburgh for the manufacture of aqua vitae or whisky. He believed in the medicinal properties of whisky which was produced by the Guild of Surgeon Barbers; it's just one of the transformations of whisky over the centuries."
"We'll also tell our guests about Edinburgh's role in taking whisky to the rest of the world, how the 19th century changed whisky production in Scotland, and of the locals that embraced whisky, from George Ballantine on South Bridge to Andrew Usher Jr at Nicolson Street, the pioneers that created their own whiskies and exported worldwide."
Indeed, this Mercat tour will cover everything anyone needs to know about the uisge beatha (the water of life) - from how whisky is made, to the effects that different elements such as water, barley, peat and the cask have on the production process. Participants can nose and taste their way through the whisky regions, with sample whiskies from Speyside, Highland, Islay and Lowland distilleries.
Tickets on sale now, the tour costs £30 per person and is for adults aged 18+.