Corporate Entertainment
Murder Most Royal
About this tour
It is 11 February 1567 – just one day after the Queen's husband was murdered in a terrible explosion at Kirk o' Fields House. Now you will act as judge and jury – in a captivating murder mystery dinner at the venue of your choosing.
Order in court!
Henry, Lord Darnley was a man with many enemies. Did the rebellious Earl of Moray dispatch him in a bid to banish 'the rule of women and boys'? Or was James Hepburn, Earl of Bothwell, behind the plot, in a move to win Mary's hand in marriage?
Darker still, was Henry killed on the orders of Mary herself – bloody revenge for the murder of her dear Rizzio a year earlier?
Guilty or innocent? You decide.
Every guest will have their part to play in the trial – lord, lady, jester and musician. Over dinner, our performers will share clues and motives – with a little misdirection for good measure. Once the trial is over, your table will vote – and seal the fate of each suspect.
Enquire about Murder Most Royal
Tours details
Need help booking?
Get in touch with us and one of our experts will be able to give you advice on our tours.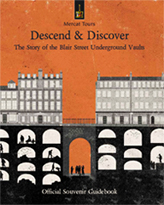 Souvenir Guidebooks
Don't forget to buy a Mercat Tours souvenir guidebook with your ticket.
See inside