History Walks
Sin in the City
In Summary
Adult-themed tales told with a merry twinkle that might make you blush
Delve into a hidden history that no other company covers
Escape to the past with tales of the city's most salacious secrets
Enjoy a five-star tour with an expert guide
Mercat exclusive audio devices - get immersed and lost in the stories...
About this tour
Drinking dens. Brothels. Riotous nudity. Edinburgh's history isn't all royal receptions and fine manners. On this five-star tour you'll see a mischievous side to the Scottish capital – full of tales of love gone wrong and unspeakable perversions.
If you're curious about the less well-known side of Edinburgh, we've got just the remedy. Join us for some sordid stories and hearty laughs as we share the risqué tales of Edinburgh's most rampant residents to raise a smile and a blush.
Peeking under the petticoats of respectable Edinburgh
On this tour you'll discover the seedier side of Edinburgh's Old Town.
Fancy hearing about the time Mary Queen of Scots appeared, flushed and topless, at a window? Or admiring the trees that James Boswell climbed for the rough pleasure of the bark?
Bring your imagination and we'll paint the picture of Edinburgh's darker establishments – and the furious spouses who discovered treachery there.
We'll pour you a glass and share more in our candle-lit underground Megget's Cellar.
We'll raise a toast, temperatures and eyebrows!
Enquire about Sin in the City
Tour details
Tour location
Start point: Mercat Cross, High Street
End point: Megget's Cellar, Blair Street, off Hunter's Square
Need help booking?
Get in touch with us and one of our experts will be able to give you advice on our tours.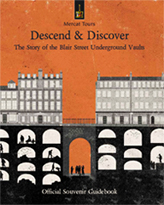 Souvenir Guidebooks
Don't forget to buy a Mercat Tours souvenir guidebook with your ticket.
See inside