National Museum of Scotland tours
National Museum of Scotland tours
About this tour
Private tours
Give us your time and we'll give your group a private tour of Scotland's incredible history. Every second counts, so we'll take your guests straight to the most striking objects in the National Museum of Scotland – into a world of Jacobite plots, royal feuds and ancient loyalties.
Mercat quality, exclusively for groups
Our exclusive access to the museum is specifically customised for groups. As with all our tours, your guests will be led by our friendly, fully-accredited guides.
Which tour will you choose?
Working closely with the National Museum of Scotland, we've created five tours of their extensive Scotland collections. Looking for something a little more tailored? Just ask – we can create a session to cover just about anything, from geology to genetics.
A History of Scotland in 10 Objects
From the world-famous to the curious, explore the objects that helped shaped Scotland – and the world. This is the perfect introduction to our country's past.

What Makes a Scot?
From battlefields to poetry to emigration, Scottish identity is more complex than it first appears. We'll go back to explore the nation's earliest people, right through to 21st century Scots – asking how we define ourselves within Scotland and beyond.

Scotland's Dark History
Every nation has secrets that lurk in the shadows. From torture to murder, we'll look at the museum's rich collection of objects that uncover a more sinister side of the past.

Exploding the Myths
Were Scotland's early people savages or civilised? Was Bonnie Prince Charlie truly a romantic hero? The answers are more complex than you might think – so we'll look at the evidence that's right here in the museum's collection.

Symbols of Scotland
Scots are associated with all sorts of symbols – from the saltire of our national flag to the thistle. What are they, and what do they signify?

Upgrade your tour
Make your group's experience even more special with exclusive access to special private rooms within the museum to enjoy drinks and light bites.
Or perhaps you want the Scottish galleries all to yourself? We can arrange preopening or after hour tours for your travel trade group.

Got a question?
Call our travel trade specialists on 0131 225 5445, or email our Trade Team.
Details
Enquire about National Museum of Scotland tours
Tour details
Tour location
Start point: Mercat Cross, High Street
End point: National Museum of Scotland
Need help booking?
Get in touch with us and one of our experts will be able to give you advice on our tours.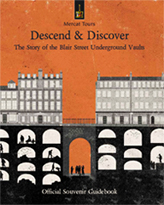 Souvenir Guidebooks
Don't forget to buy a Mercat Tours souvenir guidebook with your ticket.
See inside