Mercat tour
Storytelling Over Dinner
In Summary
Enjoy an authentic Scottish storytelling experience
Hear all about the symbols of Scotland and how they are part of our culture
Immerse yourself in traditional Scottish stories, language and music
Our Storyteller will entertain you over a meal in a private venue of your choice
About this tour
Scotland's tales, traditions and food all combine for a captivating evening that indulges the best of Scottish traditions in a private venue of your choice.
Your evening will begin as all the best evenings do; with the warm Scottish welcome, famous the world over. You'll be made to feel right at home as you enjoy traditional Scottish tales whilst your dining options are prepared.
You'll hear about the very icons that symbolise Scotland and how they came to be part of our character and culture. Saint Andrew, our national patron saint, our beautifully striking saltire flag and our prickly purple thistle, the flower of Scotland. And of course your host for the evening will tell you all about that curious Scottish skirt - better known as the kilt – the famous dress of the Scottish Highlands.
Tales behind Scotland's myths and fayre, served at your table
No Scottish evening is complete without whisky. If you'd like a 'wee dram' of our national drink, our 'water of life', then we'll ensure you can raise a glass like a true Scot. We'll teach you a Scot's toast as well as a few phrases. By the end of the night you'll feel like a local.
So huddle in, lend us your ear and join us for an exceptional night or as we say in Scotland - 'Coorie in', 'lend us yir lug' and enjoy a 'rare' night in.
Enquire about Storytelling Over Dinner
Tour details
Tour location
Start point: Your choice of venue
End point: Your choice of venue
Need help booking?
Get in touch with us and one of our experts will be able to give you advice on our tours.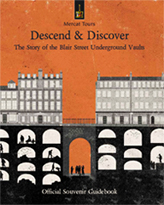 Souvenir Guidebooks
Don't forget to buy a Mercat Tours souvenir guidebook with your ticket.
See inside