Mercat tour
Tale O' Twa Touns
In Summary
Explore the contrast between Edinburgh's Old and New Town
Visit two National Trust for Scotland properties: Gladstone's Land and the Georgian House
Enjoy a private tour with an expert guide
Mercat exclusive audio devices - get immersed and lost in the stories...
Choosing Mercat is 'Good for you, Good for Edinburgh' - our team, community and environment
About this tour
Two National Trust properties, two centuries and two towns: Old and New. We team up with the National Trust for Scotland on this private tour, combining exceptional storytelling with perfectly preserved houses from the 16th and 19th centuries.
We'll begin at the Mercat Cross, where your private guide will reveal the stories behind the Old Town – a maze of closes and wynds, and a place of chronic overcrowding, where buildings once reached 14 storeys high.
We'll weave our way up to Gladstone's Land on Lawnmarket for a tour of the traditional 16th century tenement house – where you'll hear of its unique story amongst the cramped conditions and terrible poverty surrounding it in the Old Town by the 18th Century.
From cramped tenements to expansive town houses
Then we'll head for the New Town, and a tour of the Georgian House – the National Trust for Scotland's beautifully preserved example of 19th century living. The contrast is marked: spacious interiors, period furniture, a glint of silver and glass.

Please note National Trust for Scotland properties may have seasonal opening hours effecting tours Nov-Feb.
Enquire about Tale O' Twa Touns
Tour details
Tour location
Start point: Mercat Cross, High Street
End point: Georgian House, Charlotte Square
Need help booking?
Get in touch with us and one of our experts will be able to give you advice on our tours.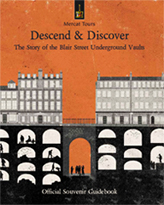 Souvenir Guidebooks
Don't forget to buy a Mercat Tours souvenir guidebook with your ticket.
See inside