Mercat tour
Edinburgh's Talking Statues
In Summary
Stop. Look up and listen in. Consider the historic figures who stand above us - and if they should...
Hear history from a range of diverse and underrepresented backgrounds
Visit and hear tales of our statues - existing and 'missing'
Revealed - those who have had an impact on the city and its people and the world over.
Enjoy Mercat exclusive audio devices - get immersed and lost in the stories...
Choosing Mercat is 'Good for you, Good for Edinburgh' - our team, community, and environment
About this tour
An Edinburgh History Tour Not To Be Missed
Statues are seen, often unnoticed...
On this Edinburgh tour you will explore the stories of people from history, immortalised (in bronze), but murky in people's memories - a fighter, surgeon, scientist, philosopher, an explorer and a politician.
The story of life behind a statue will help you to make up your mind about how 'worthy' they are of its dedication. Do we look up to them and their success stories or do we look up and remember their failings, which can teach us as much as their successes?
History's Missing Statues
If you could dedicate a statue to someone, who would it be? What story would it tell?
Mercat Tours will take you on a journey to explore which historic figures from Edinburgh's past we'd like to place on a plinth, who we currently look up to, and whether they deserve their pedestal.
To start, you'll visit James Braidwood, a fire-fighter who saved lives, homes and cities. He changed the way we operated fire services. Along the route, you'll hear about Elsie Inglis, who made it possible for the vulnerable women to receive medical treatment and about James Barry, who trained as a surgeon in Edinburgh and went on to work in South Africa and performed the first ever caesarean there.
You'll finish at a statue of one of Scotland's prominent politicians during the 1700s, which was recently the subject of much debate. Your tour will share stories including LGBTQ+, Black History, and Women's History.
We've partnered with the Scottish Storytelling Forum, as part of its Talking Statues project, to deliver an Edinburgh walking tour which explores Edinburgh's different statues. On the tour you'll discover how they got there, the stories behind them, and hear history from a variety of diverse and underrepresented backgrounds.
Enquire about Edinburgh's Talking Statues
Tour details
Tour location
Start point: Mercat Cross, High Street
Need help booking?
Get in touch with us and one of our experts will be able to give you advice on our tours.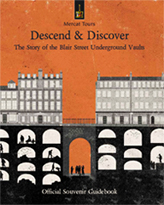 Souvenir Guidebooks
Don't forget to buy a Mercat Tours souvenir guidebook with your ticket.
See inside