Mercat tour
Training Services
In Summary
Trained, accredited team
Courses designed to your exact needs
Support materials and resources
About this tour
Since 2011, all our guides and performers have been accredited by Edinburgh Napier University. Now you can put your team through the same rigorous training, from product development to delivery and quality control.
With our help, your guides will engage, enthral and entertain – every time. We work to understand exactly what you and your visitors needs – to build a balanced and complete training programme.
Give us your files. We'll build your training.
Some of our clients start with nothing but a collection of files and facts. Working to your brief, we'll turn this into a truly entertaining product – whether you run an attraction or a tour company. We'll then train your people to deliver the product, including quality control follow-ups.
Scottish Training Award and Scottish Thistle Award-winners
We've been in the business since 1985, but we're anything but complacent – our sister company Mercat Tours has a 91% rating from Visit Scotland, and runs one Scotland's top 11 attractions.
Your team will be in very safe – and ambitious – hands. Trust our team to develop yours – giving your visitors an experience you can be proud of.
Enquire about Training Services
Tour details
Need help booking?
Get in touch with us and one of our experts will be able to give you advice on our tours.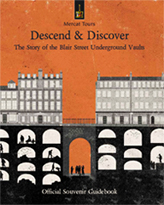 Souvenir Guidebooks
Don't forget to buy a Mercat Tours souvenir guidebook with your ticket.
See inside