Back to blog
5 Places in Edinburgh Linked to Robert Burns
17th Jan 2023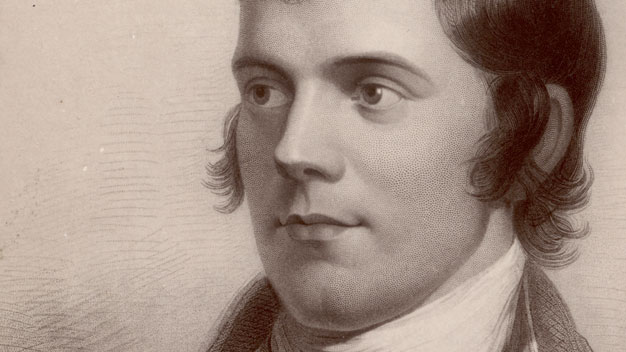 By Linda Bates, Mercat Storyteller
Scotland's most famous poet, Robert Burns, is usually associated with the county of Ayrshire in the south-west of the county; it is where he was born and lived most of his life. But he did spend some time here in Edinburgh in the 1780s and 1790s – so here are five places that can be explored on foot, on or around the Royal Mile…
1. The White Hart Inn - Grassmarket
The White Hart Inn is one of the Grassmarket's oldest pubs, dating from 1516. Robert Burns spent a week staying at the Inn in November 1791 – it was the last time he ever visited the capital, and part of his stay included attempts to woo Agnes Maclehose, a married woman with whom he had shared a passionate correspondence – his pen name was 'Sylvander'; hers was 'Clarinda'. 'Clarinda' couldn't be seen to be consorting publicly with such a notorious womaniser as Burns, and so their relationship remained purely platonic at her insistence.
Burns channelled his feelings into several love poems, one of which is now considered to be amongst the greatest ever written - "Ae Fond Kiss" - which includes these lines:
"Had we never lo'ed sae kindly, had we never lo'ed sae blindly, never met, or never parted, we'd hae ne'er been broken-hearted."
You can still see some of Burns's poetry, painted onto rafters, at the White Hart Inn.
2. Writers' Museum - Lady Stair's Close
The Writers' Museum pays tribute to three of Scotland's most beloved literary figures: Robert Burns, Sir Walter Scott and Robert Louis Stevenson. Here you'll find different artefacts relating to each of these men, including the writing desk at which Burns composed some of his greatest works, and a plaster cast of the Bard's skull – one of only three ever made.
3. Anchor Close – Royal Mile
Anchor Close, which dates from 1521, is one of the many alleyways which run at right angles to the Royal Mile; it's in the heart of the High Street and was originally named for the Anchor Tavern. Anchor Close itself was home to the printing office of one William Smellie – and it was here, in 1786, that the 'Edinburgh edition' of Robert Burns' poems was first published to great acclaim.
Burns wrote of Smellie in his poem "The Poet's Progress":

"His uncomb'd hoary locks, wild-staring, thatched
A head for thought profound and clear unmatch'd;
Yet tho' his caustic wit was biting rude,
His heart was warm, benevolent and good."
4. The Canongate Kirkyard
There are two connections to Robert Burns in this old graveyard: the first to a fellow poet, and the second to the aforementioned 'Clarinda'.
Robert Fergusson (1750-1774) was a huge influence on Burns; Fergusson was one of the first poets to write in Scots, rather than the 'Establishment' language of English. Fergusson died, poor and alone, in the Bedlam asylum in Edinburgh aged just 24 and was buried in an unmarked grave in the Canongate Kirkyard. Burns was so moved by his plight that he subsequently paid for an elaborate headstone to mark Fergusson's grave.
Agnes Maclehose - 'Clarinda' - outlived Robert Burns by decades; when she eventually died in 1841, her journals were discovered and at the entry for 6th December 1831 she had written:
"This day I can never forget. Parted with Burns, in the year 1791, never more to meet in this world. Oh, may we meet in Heaven!".
A memorial plaque was installed for her in 1909 and still attracts those interested in the ill-starred romance of 'Sylvander' and 'Clarinda'.
5. Burns Monument
Scotland's most famous literary son is memorialised all around the world. Indeed, other than religious figures, only Christopher Columbus and Queen Victoria have more statues globally - because wherever Scots emigrants went, they took Burns's poetry with them. It's no wonder, then, that in the heart of his homeland's capital one of the largest memorials can be found.

The Burns Monument sits at the foot of Calton Hill with views over to Arthur's Seat; its foundation stone was laid in 1831 and it was restored to its original glory, after almost 180 years of the worst of Scottish weather, in 2009.
You can stand beneath the columns of this neo-Classical temple and look over the Canongate Kirkyard below, knowing that in death Sylvander and Clarinda remain closely tied.
If you enjoyed this fortnight's blog sign-up to our newsletter to receive them direct to your inbox!
Plus, you can discover more of Edinburgh and Scotland's history on one of our five-star walking tours with our award-winning storytellers, see what's on here.