Back to blog
Things to do in Edinburgh on Valentine's Day
27th Jan 2023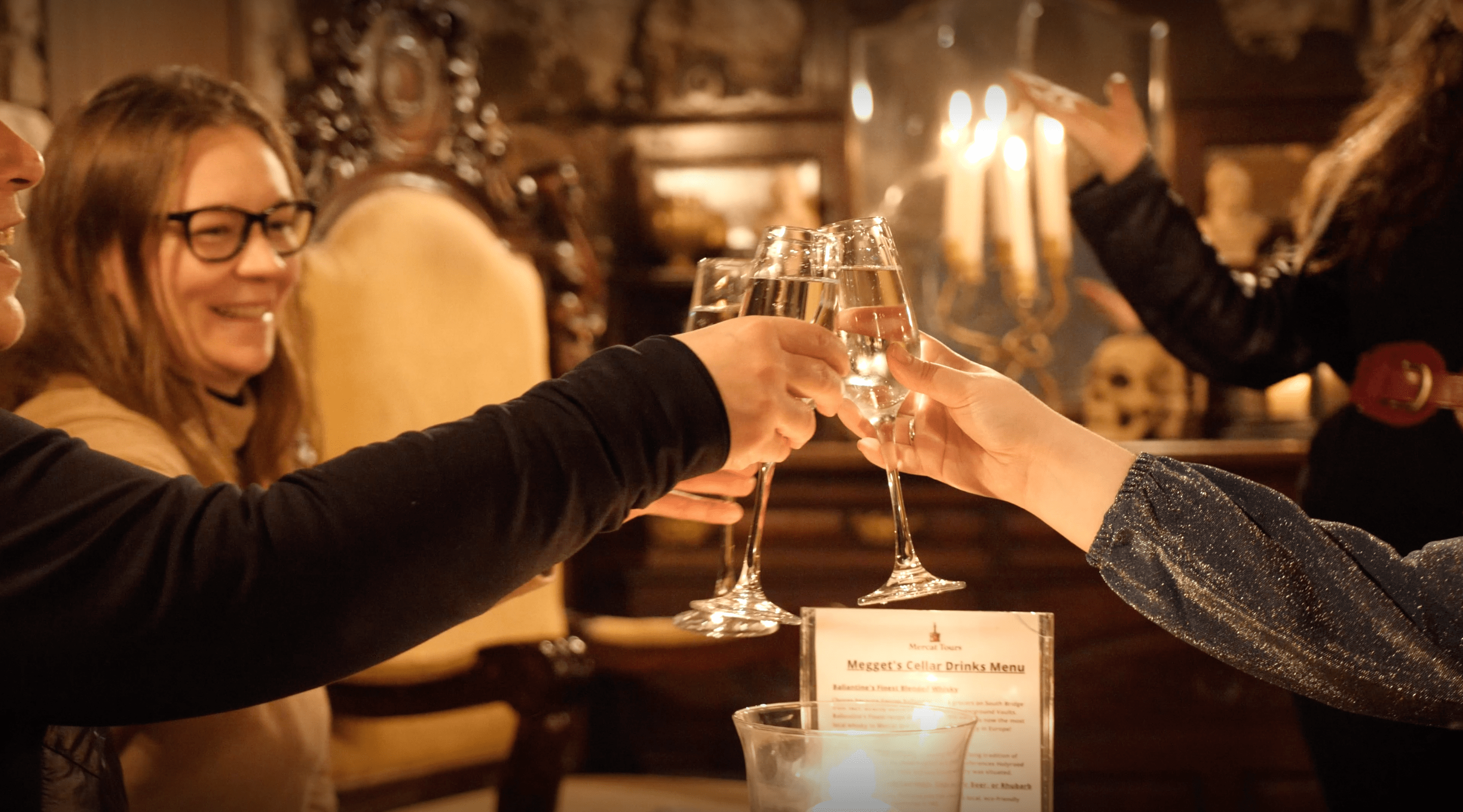 It's almost February and that means Valentine's Day is just around the corner. Thankfully there's plenty of things to do in Edinburgh to celebrate the special day, whether you're in a relationship, or simply fancy a fun Galentine's day out!
1. Five-star Sin in the City tour
Our five-star Sin in the City tour is back! Delve into the hilarious and cheeky side of history with our award-winning storytellers on this one of a kind history tour. You'll discover stories of some of Edinburgh's most rampant past residents and their saucy scandals that will have you in stitches. Plus, that's not all - the tour ends with a drink of your choice in our atmospheric Megget's Cellar. Find out more and get your tickets here.
2. A romantic stroll through Princes Street Gardens
Walking is good for you so why not take a romantic stroll with a loved one through Princes Street Gardens this Valentine's Day? With stunning views of Edinburgh Castle and the Ross Fountain, it's also a great place to plan a proposal when they least expect it... (and don't forget to send us photos if we inspired you!)
3. Enjoy a romantic lunch or dinner
There are lots of great places to eat in Edinburgh. Joining us for a tour? Top off your Valentine's day out with a romantic lunch or dinner at one of the city's many highly rated cafes and restaurants. However, don't forget to check if you need to book ahead as these popular establishments can fill up fast, especially on February 14th!
4. Have a relaxing spa day
Whether you're a couple, looking for a fun friends day out, or single and simply need some you time this Valentine's Day - a spa day can suit all situations! There's plenty to choose from in Edinburgh, including the five-star rated Ruan Mai just opposite our office on Blair Street.
5. Take a ghost tour of Edinburgh's Vaults
For a spooky and unique Valentine's Day experience, take a ghost tour and discover the darker side of Edinburgh's history. Did you know that only our tours offer exclusive access to the Blair Street Underground Vaults? Located deep beneath the South Bridge, they are the deepest and most extensive set of vaults in the city. Book here.
6. Visit the Royal Botanic Garden:
Another romantic and relaxing walking spot is Edinburgh's Royal Botanic Garden. It's home to 70 acres of gardens and houses 100000 plants! It's a great place to take in the fresh air and nature and with plenty of seating space it's also an ideal spot to have a picnic. Learn more.
Edinburgh is a romantic city and Valentine's Day is the perfect time to explore it. From romantic walks and fine dining to fun activities and spa days, there are plenty of things to do in Edinburgh on Valentine's Day. Whether you're looking for a traditional romantic experience or something a bit more unique, you're sure to find something special to do in this beautiful city.
If you enjoyed this fortnight's blog sign-up to our newsletter to receive them direct to your inbox! Plus, don't forget to check out our one of a kind five-star Sin In The City tour, running for a limited time only.