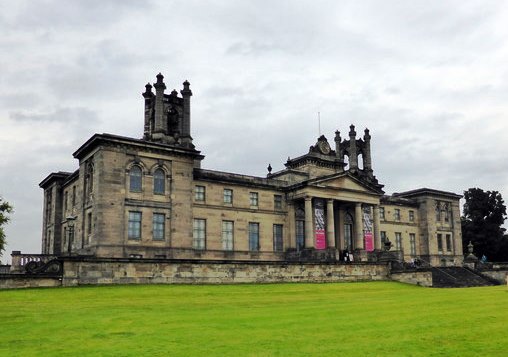 There are many nice walks around Edinburgh. Arthur's Seat is very popular and affords beautiful views across the city. But there are quieter options off the beaten track, that don't involve a scramble onto a crowded summit, here our guide Mark shares one of his recommendations.
One of my favourites is the Water of Leith, which winds its way from the village of Balerno, all the way through the city to the Port of Leith. I would recommend starting at the Balerno end, easily reached on a number 44 bus.
The swishing noises of passing cars gradually melt away, as you plunge into a world dominated only by the gentle trickle of the river, the chirping of unseen birds and the crunch of your own footsteps. On a hot summer day, the green canopy above provides welcome shade. The occasional walker says hello, others are happy in their solitude. The odd friendly canine gives you a cursory sniff, before moving onto something more interesting.
You'll go over a long wooden bridge, and pass through a disused railway tunnel as you approach Colinton Village. Here you'll find public toilets (an important consideration on a long walk) and a statue of a young Robert Louis Stevenson who was a regular visitor.
As you approach the city of Edinburgh, the path intersects with the Union Canal towpath which is another popular walk in the city; though beware speeding cyclists. At this point, you'll also find the Water of Leith Information Centre.
As you continue into the city you'll notice the gradual encroachment of urban sprawl beyond the confines of the path, but that only heightens the contrast with your immediate surroundings. The Water of Leith remains its own separate world, a thin ribbon of oasis.
After passing the Gallery of Modern Art, you'll find yourself in the charming Dean Village, a photographer's paradise, before passing under the imposing Dean Bridge. Look out for St Bernard's Well as you approach the Stockbridge area.
By now you'll have walked more than 10 miles, but urban comforts and bus stops are easily accessible, hence the wisdom of starting at the Balerno end. This reassuring knowledge may entice you to keep going a little further.
If you see the path to its conclusion you'll end up in the Shore area of Leith. Here there are plenty of pubs, restaurants and amenities for your refreshment.
The Water of Leith is, for me, a very special place. If you're visiting Edinburgh for more than just a couple of days, take some time out from rushing around the attractions, sampling our range of history walks and ghost tours and experience this wonderful walk.