Back to blog
Just another day in the office? Give it a try!
20th Apr 2015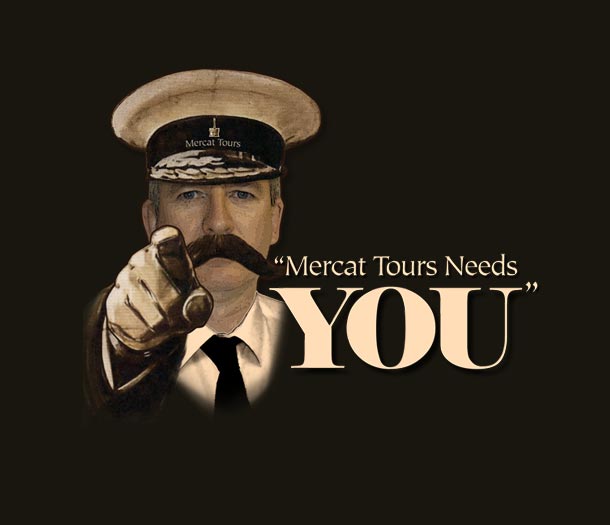 What does it take to don a cloak and lead a group into our dark and spooky closes, or to bring our history to life?
There's much more to guiding than being able to wield a whip and produce a good scary face at will. There are hours of research and reading, storytelling practice sessions and even scream training, before a guide is unleashed upon the curious visitors.
And for our history guides the research never ends. Most of Mercat's history guides are qualified historians, and will be constantly digging into the records to find sources and extra information about this unique city that reveals layer upon layer of itself to us.
Nerves of steel are also a pre-requisite: there is no greater challenge than stepping out on your first tour in front of a crowd of people, all waiting for you, and only you, to entertain, educate and enthral them for an hour or so.
So, why do we do it?
Ask any of our guides and you'll get similar responses.
It is simply the most fun job you can do. No tour is ever the same, and no group of visitors is ever the same. You meet people of all nationalities and interests, from the curious first time tourist wanting to learn about our history, to the seasoned ghost hunters. The sceptics, the thrill seekers, the work nights out: they all bring different challenges for our guides. But the sheer enjoyment of doing what we do is hopefully what makes the difference to our visitor's experience. If we can share that passion, it's hopefully something that you can take home with you, and brighten that first day back at the office.