Back to blog
June EXCLUSIVE; It's Time to Talk Statues Pt 1
8th Jun 2023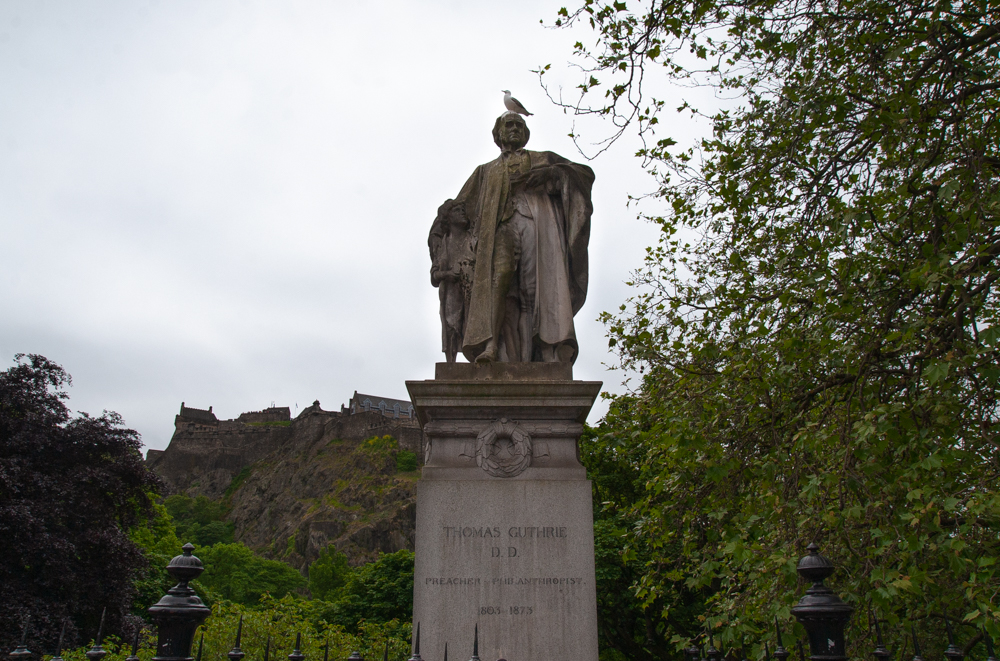 Thomas Guthrie: a forgotten statue remembered
Imagine you're walking down Princes Street here in Edinburgh. You look to your left at the entrance to the gardens. There, a statue stands tall, depicting a man with a bible in one hand and protecting a child with the other. You read the name, but it's likely you don't recognise it.
The man is Thomas Guthrie, one of the many historical figures we walk past on a daily basis, sometimes without even realising it.
Who was Thomas Guthrie?
Thomas Guthrie came to Edinburgh in 1815. As a minister, he dedicated his life to improving the lives of children and the impoverished.
In 19th century Edinburgh, hundreds of children were imprisoned, having turned to crime because they had no other way to survive. In 1847, Guthrie published a pamphlet that changed their lives: Pleas for Ragged Schools. Soon, the first Ragged School opened on the Royal Mile—in the building now known as Camera Obscura.
What were Ragged Schools?
They provided free education, meals, clothing, and training. The schools got these vulnerable children off the streets and set them up for success.
The Ragged Schools decreased the number of children in prison. Over 200 former pupils attended his funeral in 1873, and his legacy lived on with them and the Ragged Schools.
What about the other statues we forget?
Thomas Guthrie is only one of the many statues you might encounter on a trip through Edinburgh. Have you ever stopped and wondered about the stories—the real lives—behind them? Have you ever wondered who might be missing from the streets?
We're answering those questions on our featured Edinburgh's Talking Statues tour: a one-day-only event in June. Book your tickets and join our award-winning storytellers on 17th June to hear the history of underrepresented backgrounds and reveal the lives of the statues that stand above us, as well as those that are missing.