Back to blog
Mercat Momentum| Edinburgh Vaults Tours
25th Aug 2020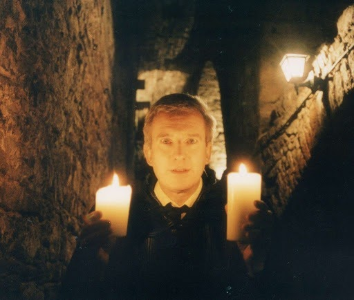 Co-founder Des Brogan continues his recollection of Mercat Tours through the years, having walked us through How Mercat Tours was Born and the Early Years of Mercat Tours.
Thoughout the early 1990s, the business developed and was now run every day of the year except Christmas Eve, Christmas Day and Boxing Day. Many guides were University History students, some were retired teachers and others were freelance.
The situation changed in 1993, when we added the Edinburgh Underground Vaults in Blair Street and Niddry Street to our tour programme. Not only did this create a unique addition to our ghost tours, but these Edinburgh Underground Vaults Tours also opened up the possibility of social history tours of life in the city throughout the18th and 19th centuries.
In 1995, Mercat won the contract from the City of Edinburgh Council to develop and operate tours of the Mary King's Close under the City Chambers. This was all a game-changer – now we had to increase and train a new guide community, and ramp up the administrative and booking system that was now required to sustain the expanded organisation.
Making life-changing decisions
Consequently, in August 1995 I took a career-altering decision. After 20 years in the teaching profession and in a variety of roles which had included Principal Teacher of History, Assistant Head, Lecturer in Teacher Education at Moray House, National Curriculum Development Officer for Standard Grade and Higher Level History and Examiner at the Scottish Qualifications Authority, I decided to make the shift to managing a tourism business full-time!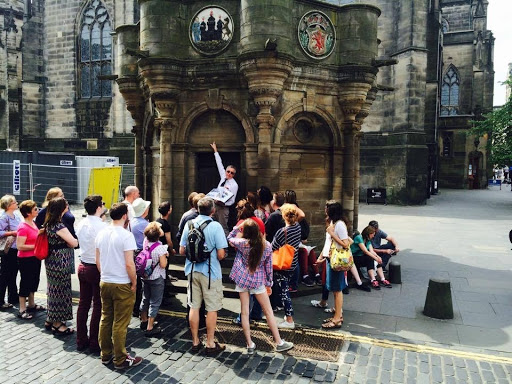 Stepping up a gear
My decision immediately resulted in setting up an office, first of all within the City Chambers and then in Niddry St South. Mercat Tours quickly became the pre-eminent history-based touring company in Edinburgh. Tour attendance on our above ground history walks and our Edinburgh Vaults Tours rose exponentially, and our reputation spread afar.
My personal teaching motto, "History is a damned good story. What it needs is damned good telling", became the new strapline on all our advertising.
Public recognition and rewards quickly followed. Investors in People status was achieved in 1996, followed by the accolade of a Thistle Award for Cultural Tourism.
We produced a series of best-selling publications – Ghostly Tales and Sinister Stories of Old Edinburgh, Hidden and Haunted Underground Edinburgh and Descend and Discover, The Story of the Blair Street Underground Vaults. We bought out a rival tour company and greatly expanded our customer base.
It wasn't all sweetness and light
While the business flourished, there were some difficult times. I became the sole director of the company, with increased responsibilities and pressures. My wife, Win, was forced to take early retirement due to ill health. New companies were springing up to challenge our dominance of the market.
A family affair
Mercat lost the Mary King's Close contract to a larger corporation from south of the border. Nevertheless, by the early 2000s Mercat was on a surer footing. Win Brogan, in recovery from her illness, joined Mercat as Head of Development and took us to new heights.
Within two years, we had won two Tourism Innovation Awards and had set up a new business Underground Edinburgh, which provided event catering that included costumed history evenings. This greatly increased our footfall on all our scheduled tours.
Even the younger Brogans were involved. Kathleen was trained as a guide and delivered sterling storytelling, both on the Royal Mile and Edinburgh Vaults Tours. Michael was involved in administrative duties and even found himself painting the office one Christmas Eve!
I have always claimed that Mercat was a family business with family values, which extended to the way in which we looked after our staff. Everyone was part of the extended Mercat Family. By 2006, this was a reality, with all four Brogans working in the family business.
International growth
In 1997, I combined my knowledge of the battlefields together with my contacts in Scottish schools, and established Mercat Tours International. We promised to provide a knowledgeable, authoritative and quality educational experience for students, which will change their lives.
What I was able to provide with Mercat International was a product that supplied accommodation, travel and teaching, and, moreover, tied into the Scottish Examination Curriculum which, as a Development Officer, I had partly been responsible for constructing.
Each year from 1997, we added five, then 10, then 15 schools to our portfolio. When schools came once, they always came back again and our reputation for a unique experience spread across the country. Each group that came was formed into a Pals Battalion, hence Dunbar Grammar for the first time was the First Dunbar Pals. Suffice it to say that every year since, Dunbar sends the entire Third Year with MTI and they are now on their 18th Battalion! They tell you why in their own words, here..
MTI has become a great success story, since most schools in Scotland who visit the Battlefields of WWI and WWII, come with MTI. In 2000, we extended the tours to include adults – with similar success.
Bringing emotion into our tours
In 2014, MTI organised a very special event to mark the Christmas Truce in the trenches near Ypres. We took nearly 200 adults over to Belgium for Christmas Eve and walked, emotionally, in the footsteps of both German and British soldiers in the very trenches they lived in on that cold night on 24th December 1914.
If those soldiers had ever wondered if anyone would remember them, we were that answer. On a cold, starlit Christmas Eve 2014, we sang the carols they had sung in No Man's Land and we laid a poppy on their graves.
On Christmas Day, we played a football match in No Man's Land. On Boxing Day, we raised money for Poppy Scotland in the Great Square of Ypres and in the evening attended a concert performed by Scots and Belgians to commemorate the Christmas Truce of 1914. Then we danced the night away in the reconstructed Cloth Hall of Ypres!
If ever there was an exemplification of 'History is a Damned Good Story'… this was it.
Handing over the reins to the next generation
Time passes, however, and I felt it was time for the next generation to move up. The success of the MTI tour of 2014 and the strength of Mercat Tours indicated that it was a good time to hand over the Companies.
Frank McGrail, one of the original four Mercat partners, had recently retired from teaching and was happy to take over as General Manager for a few years until Kathleen was ready to adopt that mantle.
Since then, I'm deeply proud to have seen Mercat Tours flourish under KB's leadership.
Stay tuned for Kat's blog talking about the 'here and now' of Mercat Tours…