Back to blog
Things to do in Edinburgh in May 2023
3rd May 2022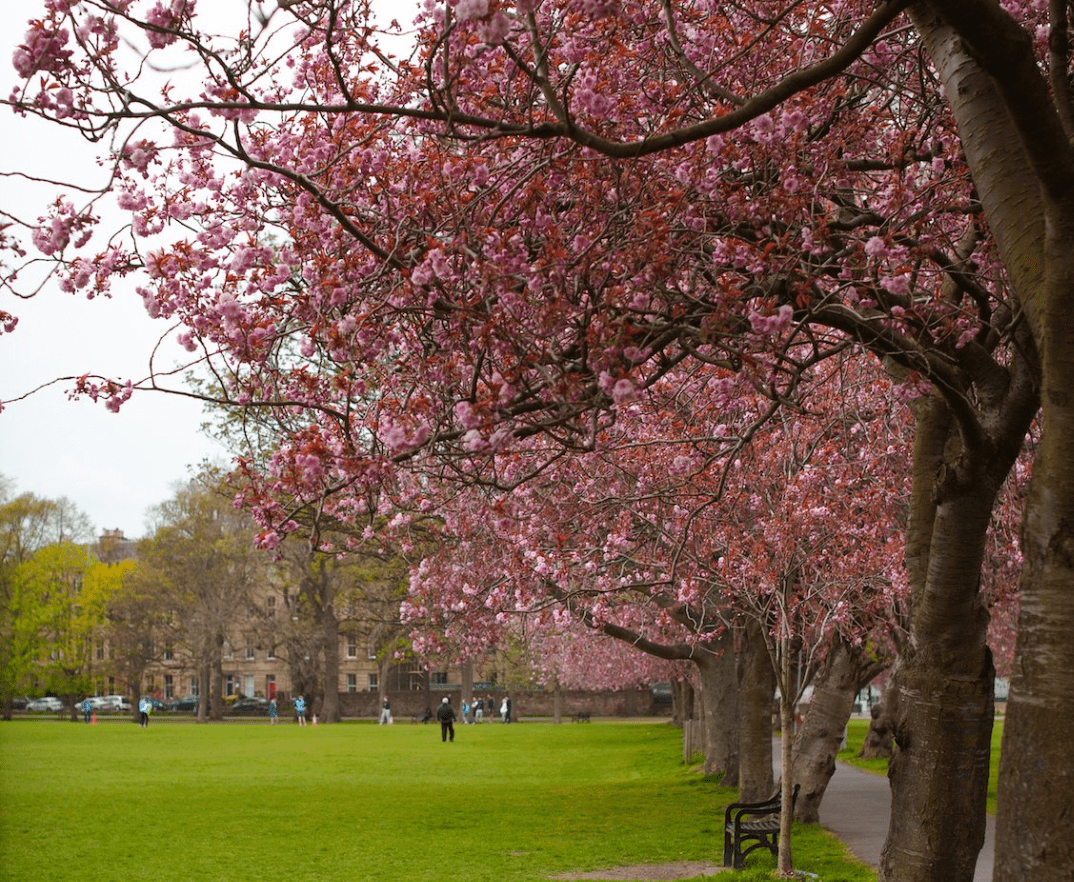 Edinburgh is a spectacular place to be in May. Not only does it mark whisky month, but the Royal Mile picks up with buskers and interesting displays as more visitors come to the city for their holidays.
The cherry blossoms that line many of the city's green spaces are also in full bloom, resultiing in beautiful displays of bright pink petals. So what is there to do in Edinburgh in May? The answer is plenty!
Take a whisky tour
Whisky Month is the perfect time to try a dram or two. The drink has been produced in Scotland for centuries with its name coming from Scottish Gaelic. Did you know 'whisky' translates to 'the water of life'?
On our whisky tours you'll learn everything you need to know about the classic Scottish beverage; from how whisky is made to the effects that different elements such as water, barley, peat and the cask have on the production process. Taste your way through the whisky regions, with sample whiskies from Speyside, Highland, Islay and Lowland distilleries.
Consider it your first step to becoming a whisky connoisseur! Book here.
Bathe in pink petals
May is also the perfect time to bathe in the beauty of the city's beautiful cherry blossoms! The Meadows and Starbank Park are great places to stop for a picnic and admire the trees in full bloom.
Visit Edinburgh Zoo
As the weather picks up it's also a great time to visit the city's zoo! Did you know that Edinburgh Zoo was the first in the world to house penguins? It's also the only one in the UK to house giant pandas and Queensland Koalas. The zoo also actively works on a number of conservation projects to protect endangered species.
See all of the events happening at Edinburgh Zoo here. Plus, keep an eye out for their colourful Giraffes About Town art event coming this summer!
Discover your next favourite band
Do you love discovering new music? Then why not head on down to Newhailes first family friendly music festival! Hosted in the grounds of the grand Palladian house that played a prominent role in the Scottish Enlightenment.
They'll have a line up of Scottish acts, food and drink and there's also a playground to keep the kids entertained. Learn more here.
Visiting Edinburgh? Join our e-mail newsletter to get the latest insights on what's happening in the city to your inbox. Plus, chances to win prizes, tickets, and more!