Ghost Tours
Doomed, Dead & Buried
In Summary
Explore the Blair Street Underground Vaults and the Canongate graveyard, on this in-depth Edinburgh ghost tour
Hear of infamous murderers and cursed souls, hard lives and tragic deaths
Experience terror of the city's gruesome past, with a focus on horrific true tales from Edinburgh's dark history
This tour explores dark content for adults only, 18+
Mercat exclusive audio devices - get immersed and lost in the stories...
About this tour
Dark Edinburgh history and graveyard ghost tour
Explore the dim closes and wynds of Old Town Edinburgh after dark has descended on the city, and learn of the unsavoury characters who used to occupy these streets. Experience the eerie and frightening atmosphere of the haunted Blair Street Underground Vaults, which Mercat Tours has exclusive access to. From here, it's on to the spooky Canongate graveyard, where the spirits of the dead await.
It might be something to do with the change in temperature. Or the perpetual darkness. Or the ever smaller rooms, stretching beyond the weak beam of a torch or flicker of candelight. Whatever the reason, there's something unsettling about the Blair Street Underground Vaults – and your expert Mercat Tours Storyteller will reveal the troubling tales on this underground Edinburgh ghost tour.
Explore underground
Cannibals. Body snatchers. Deals with the Devil. And that's before we even head underground.
A walk through shadowy closes to the Canongate graveyard will bring you to the resting place of Edinburgh's most famous figures, many of whom met a tragic and gruesome end. Adam Smith, the father of economics; David Rizzio, confidant of Mary Queen of Scots; and James Douglas, 3rd Marquess of Queensberry – the infamous cannibal of the Canongate.
On this Edinburgh underground vaults and graveyard ghost tour, you'll hear countless tales of dastardly deeds and ghostly sightings in the very places where they occurred.

Please Note: To give a fully immersive experience, we'll provide a personal audio device. Your Storyteller will use a headset with microphone to ensure you hear every word in the hush of Edinburgh's haunted Old Town. Please do bring your own headphones/earphones - it's a standard 3.5mm audio jack.
Customer review
"We absolutely loved this tour! It's a great way to see the city, get some history and have a few laughs and scares along the way!"
Rebekah, Facebook
Book ticket
Tours details
Dates & times
Time: 18:00 19:30
Private group bookings
Reconnect with friends and family on a tour just for you. Book online now, or if you'd like we're happy to help on email info@mercattours.com
Details
Small groups mean tickets are limited – we recommend booking in advance to guarantee your place and get the best price
Everyone has a warm welcome from us at the Mercat Cross. Read more about how we look after you and what to expect on tour on our Accessibility page and Euan's Guide Review.
Check how we make sure you will be safe and feel safe on tour
Remember – over 18s only on this tour.
These are dark, late night tours; please don't drink any alcohol before you arrive.
Tour location
Start point: Mercat Cross, High Street
End point: Canongate Graveyard
Need help booking?
Get in touch with us and one of our experts will be able to give you advice on our tours.
Customer review
"We absolutely loved this tour! It's a great way to see the city, get some history and have a few laughs and scares along the way!"
Rebekah, Facebook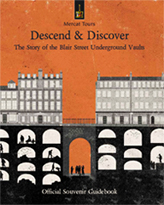 Souvenir Guidebooks
Don't forget to buy a Mercat Tours souvenir guidebook with your ticket.
See inside